Agro-aquatic-forestry exports show positive signs in July
VGP - Export value of agro-aquatic-forestry products in July reached US$4.62 billion, a year-on-year increase of 5.3 percent, reported the Ministry of Agriculture and Rural Development.
August 01, 2023 2:33 PM GMT+7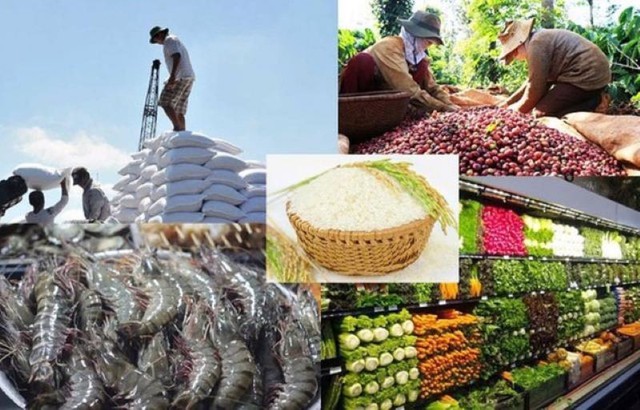 Of total, US$2.32 billion came from farm produce, US$800 million from aquatic items and US$1.24 billion from forestry products.
During January-July, Viet Nam gained US$29.13 billion from exporting agro-forestry-aquatic products, down 9.1 percent.
Earnings from aquatic and forestry products dropped 25.4 percent and 25.5 percent to US$4.95 billion and US$7.79 billion, respectively.
Meanwhile, export value of key farm produce rose by 13.2 percent to US$14.99 billion, remarkably fruits and vegetables US$3.32 billion, up 68.1 percent; rice US$2.58 billion, up 29.6 percent; cashew US$1.95 billion, up 9.8 percent; and coffee US$2.76 billion, up 6 percent.
Exports to Asia increased by 2.3 percent to US$14.06 billion and to Africa up 14.1 percent to US$573 million.
In contrast, shipments to others decreased, including the Americas (down 29.2 percent to US$6.52 billion); Europe (down 13.3 percent to US$3.29 billion); and Oceania (down 25.6 percent to US$408 million).
China, the U.S. and Japan remained the biggest importer of Viet Nam's agro-forestry-aquatic products during the seven months.
Exports to China accounted for 21.9 percent of the total, rising 12.5 per cent year-on-year; the U.S. 20.4 percent, down 29.3 percent; and Japan 7.6 percent, down 6.9 percent, the ministry announced./.