ADB supports commercial and industrial rooftop solar in Viet Nam
VGP - The Asian Development Bank (ADB) and GreenYellow Smart Solutions Viet Nam Co., Ltd. (Green Yellow) have signed a loan agreement of up to US$13.8 million for rooftop photovoltaic (PV) solar systems in order to raise the supply of clean and affordable energy for commercial and industrial consumers based in Viet Nam.
September 12, 2023 10:31 AM GMT+7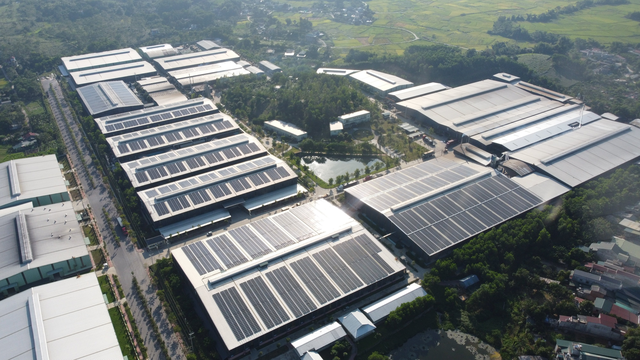 The loan will be used to support further development and operation of solar PV systems located on the rooftops of commercial and industrial businesses across the country.
The financing package consists of a US$3 million A loan from ADB's ordinary capital resources and US$10.8 million parallel loans from FMO, a climate fund managed by responsAbility Investments AG, and Societe Generale, with ADB working as the mandated lead arranger.
Solar PV rooftop offers an efficient way for Viet Nam to deploy substantial amounts of additional renewable energy capacity while providing reliable, low-cost energy to consumers, which helps to attract and retain business and enhance Viet Nam's global competitiveness.
This is ADB's first time financing of a solar PV rooftop portfolio for the commercial and industrial segment in the nation. Rooftop solar panels are an emerging form of renewable energy supply in the nation, with its adoption in this sector being hindered by a high upfront costs coupled with limited financing channels.
With a planned total installed capacity of up to 32.3 megawatts at its peak, this project is set to increase clean energy supply to the sector by at least 31.5 gigawatt-hours annually, reducing 15,530 tons of carbon dioxide emissions by 2025./.