World Bank pledges to help Viet Nam realize 2045 development goals
VGP – The World Bank will continue support and assistance for Viet Nam in advancing green and digital transformation, and rapid, sustainable and inclusive development in a bid to help the country realize development goals by 2045.
March 21, 2022 8:52 PM GMT+7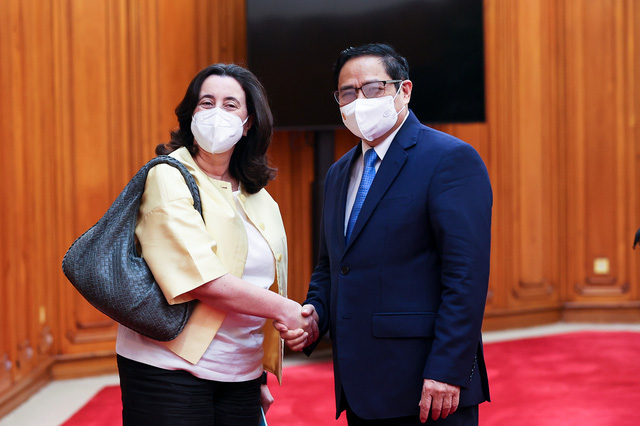 Ms. Manuela V. Ferro, World Bank Regional Vice President for East Asia and Pacific (EAP) made the above statement during his meeting with Vietnamese Prime Minister Pham Minh Chinh in Ha Noi on Monday.

She said she was impressed with Viet Nam's achievements over the recent past, including its capacity to manage the COVID-19 pandemic and sustain growth.
Prime Minister Pham praised the World Bank's initiative to support countries in the COVID-19 fight and thanked the international institution for granting US$6.2 million in refundable aid to Viet Nam in 2020.
He urged the World Bank to assist Viet Nam in accessing to non-refundable aid and loans with softer terms, and share international experience and policy recommendations with the country.
Pham also suggested the World Bank continue support and assistance for Viet Nam realize its commitments made at the 26th United Nations Climate Change Conference of the Parties (COP26)./.