Workers to have four days off on occasion of National Day 2023
VGP - Workers nationwide will have a total of four days off from September 1 to September 4 on the occasion of the National Day, according to the Office of the Government.
August 25, 2023 11:01 AM GMT+7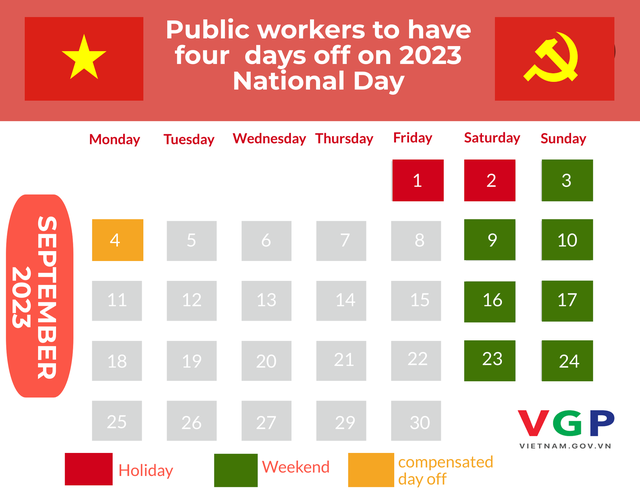 As Viet Nam National Day (September 2) falls on a weekend this year, employees are entitled to four consecutive days off from September 1 to September 4.
The National Day holiday will include two national holidays (falling on Friday and Saturday), one weekend day (Sunday), and one substitute day (Monday of the following week).
Agencies and companies that work on weekends (Saturday and Sunday) are allowed to determine the holiday for their employees based on their work schedules.
Employees who are not civil servants, or public employees, can choose their days off on the National Day holiday in 2023. They are entitled to be off work on Saturday, September 2, and can choose to take a day off on either Friday, September 1 or Sunday, September 3.
September 2 is known as the National Day in Viet Nam, which is a significant annual holiday commemorating the day that President Ho Chi Minh read the Declaration of Independence at Ba Dinh Square, Ha Noi.
On September 2, 1945, the Declaration of Independence was read aloud, marking the birth of the Democratic Republic of Viet Nam and ending decades of French colonial rule.
Originally, September 2 was called "Vietnam Independence Day," while August 19th was known as the National Day. In 1954, September 2 officially became the National Day in Viet Nam.
The National Day is celebrated annually on September 2, with various events and activities taking place across the country. It is a time for Vietnamese people to come together and honor their rich history and culture, and to reaffirm their commitment to building a strong and prosperous nation./.