Work on Hoa Binh Hydropower Plant expansion project begins
VGP – Prime Minister Nguyen Xuan Phuc attended the ground-breaking ceremony of the expansion project of Hoa Binh Hydropower Plan on Sunday morning.
January 10, 2021 3:25 PM GMT+7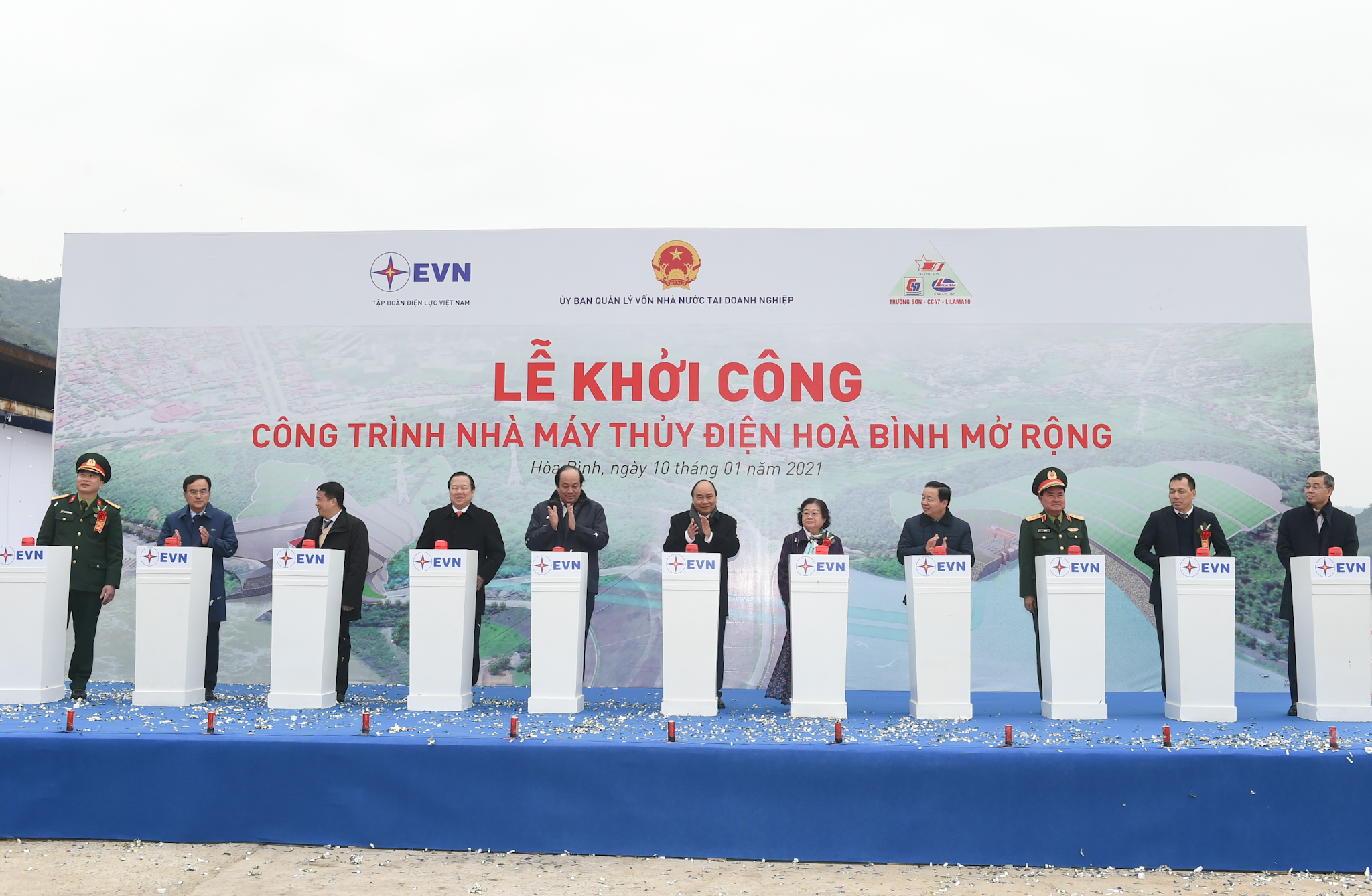 Prime Minister Nguyen Xuan Phuc (6th from left) at the ground-breaking ceremony of the expansion project of Hoa Binh Hydropower Plan, Hoa Binh Province, January 10, 2021. Photo: VGP
The VND 9.2 trillion (US$394.6 million) project involves construction of two new turbines with total capacity of 480MW and electricity output of about 488.3 million KWh per yer.
Once completed by 2023, the expanded Hoa Binh Hydropower Plant will have total capacity of 2,400MW, equivalent to that of the Son La Hydropower Plant – currently the biggest power station in Viet Nam.
Built in the Da River basin in the northern mountainous province of Hoa Binh, at the time of its conception in 1979, Hoa Binh was the largest hydropower plant in Southeast Asia.
The construction was supported by the Soviet Union all the way through, designing, supplying equipment, supervising, and helping it go on stream.
The plant is in stable operation with an annual electricity output of nearly 10 billion kWh, making considerable contributions to the national electricity system and the provincial budget.
Addressing the event, PM Phuc said three power plants built in the Da River basin, namely Hoa Binh Hydropower Plant, Son La Hydropower Plant, and Lai Chau Hydropower Plant symbolize the country's industrialization and modernization cause.
After the expanded project is completed, the aforesaid power plants with total capacity of 6,000 MW will account for 30% of the nation's electricity output.
PM Phuc took the occasion to pay rich tributes to the great efforts and sacrifices of the 168 officers and engineers, including 11 Soviet experts who lost their lives during the construction of the power plant.
The Government chief also praised the great efforts of the electricity sector in increasing power output and capacity, raising the country's electricity access rate in rural areas to 99.3%.
Over the past six years, Viet Nam's access-to-electricity index jumped 129 places to 27th out of 190 countries and territories, he added.
Phuc stressed the need to ensure absolute and long-term safety and sustainable development throughout the construction and operation of the expanded power plant.
By Quang Minh
Follow us on Twitter @VNGovtPortal and Facebook page @VNGov