WEF: VN's trade environment gets better
VGP - Việt Nam posts one of the biggest progressions among all countries, leaping 18 places to 71st position in the latest report of the World Economic Forum (WEF) themed 'Global Enabling Trade Report 2010.'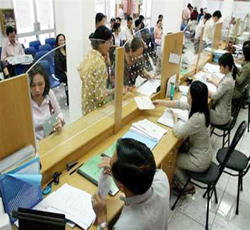 The administrative reform helps create a better business environment in Việt Nam - Illustration photo
The improvements in trade environment reflect Việt Nam's commitments after the country joined the World Trade Organization (WTO) in 2007.
According to the enabling trade index 2010, Việt Nam's market access ranks 50th among 125 countries and territories that were involved in the report.
Despite progress made, the report says, Việt Nam's tariff schedule remains complex in some respects. The area of biggest concern, however, is in border administration. Recent efforts to streamline the efficiency of the country's customs led to a 10-place improvement in the related category, albeit from a low base (107th).
Trade could be further enabled by upgrading the country's transport infrastructure, which is in a dire state (103rd).
Low airport density (104th), poor road quality (95th), and insufficiently developed port facilities (93rd) indicate that Việt Nam, the booming country, is straining the country's infrastructure.
The assessment of transport services is much more positive. Việt Nam improves its score on all indicators composing this category and ranks 31st.
Finally, Việt Nam achieves mixed results in the business environment component (64th). The WEF's report lauds Việt Nam for the openness toward FDI (26th) and foreign labor (46th).
The report ranks countries based on four indexes namely market access, border administration, transport and communications infrastructure, and business environment/.
By Kim Anh