WEF ASEAN 2018 convenes plenary session
VGP – The World Economic Forum on ASEAN (WEF ASEAN) 2018 officially convened its plenary session entitled "ASEAN's priorities in the fourth Industrial Revolution", in Ha Noi on September 12, with the participation of the ASEAN, WEF and international leaders.
September 12, 2018 9:11 AM GMT+7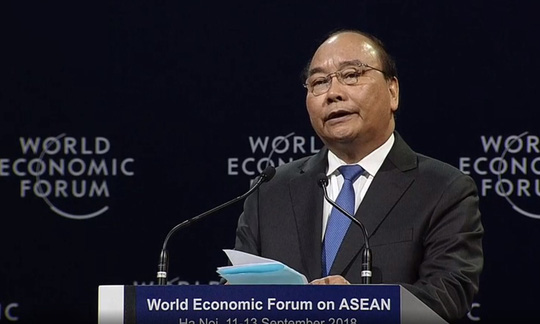 Vietnamese Prime Minister Nguyen Xuan Phuc attends the event
Vietnamese Prime Minister Nguyen Xuan Phuc attended the event and delivered his opening remarks.
Under the theme "Entrepreneurship and the Fourth Industrial Revolution", the WEF ASEAN 2018 is a large and prestigious platform in the region, gathering the attendance of more than 1,000 delegates, including heads of states, representatives from large international organizations, and leaders from the world's leading groups. Especially, the event has also brought together 80 leading ASEAN startups, mostly startup accelerators, venture capital funds, technology experts and media leaders.
With nearly 60 discussions, the WEF ASEAN 2018 is a forum for the leaders and leading businesses in the region and the world to share their ideas, policies and measures concerning the development of startups, how to seize opportunities, and cooperation in addressing the issues posed by the Fourth Industrial Revolution to ASEAN member nations and the region.
Especially, the Viet Nam Business Summit will be held within the framework of the WEF ASEAN 2018. PM Nguyen Xuan Phuc and WEF President Borge Brende are expected to deliver speech and hold dialogue with the business community at the event.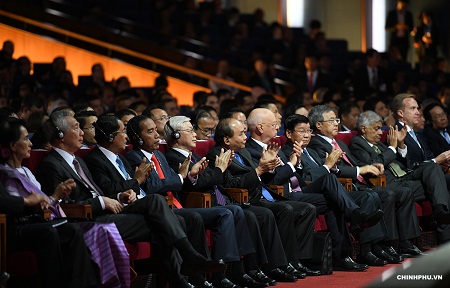 Photo: VGP
The WEF ASEAN 2018 offers an opportunity to promote partners' cooperation with Viet Nam, while encouraging the leading corporations with strong financial, technology and market potential to strengthen their investment in the country, thus contributing actively to helping Viet Nam expand the market, as well as take advantage of high-quality capital and modern technologies, to serve the restructuring of the economy and the renewal of the growth model.
As the host country and co-organizer of the WEF ASEAN, Viet Nam has set its mark by bringing the issue of the Fourth Industrial Revolution into the topic connotations of the conference, as well as integrating many issues of Viet Nam and ASEAN countries' concern into the conference agenda, such as innovation, smart infrastructure and city, labor-employment in the Fourth Industrial Revolution, human resources development, and hi-tech agriculture.
These are the practical topics that meet the common concerns of ASEAN countries and many other countries in the world, especially Viet Nam. Also, they are closely linked with ASEAN's 2018 theme of building a self-reliant and innovative ASEAN Community. The WEF ASEAN 2018 will be a good opportunity for the parties to meet and share their experience, as well as to get best prepared to enter the 4.0 Industrial Revolution in an effective fashion.
By Vien Nhu