VN's steel price hikes seek strong pull-up hand
VGP – A new world list of higher prices of input materials (imported iron ore, coke, steel billet and scrap) for steel production comes into effect today and unavoidably brings up the price of steel products in the domestic market, the Việt Nam Steel Association (VNSA) reported.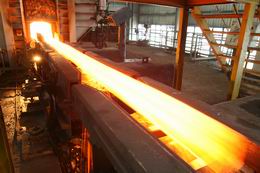 High steel billet price brings up steel price - Illustration photo

Unavoidable increase of world steel prices
As reported by the VNSA, Australia - the world's biggest iron ore provider - has recently announced to raise its selling price of iron ore by 40-50% against last year. Meanwhile, the price of imported coke increases over 80% in conjunction with the cast-iron price.
Another report from the Domestic Market Management Team shows that the imported price of steel billet has hiked up over 40%. By the end of March, the figure stood at US $614/ton, increasing by US $70-80/ton against previous month and US $115-130/ton against last December. Also, the scrap price witnesses a sharp leap of over 70%.
VN to be unavoidably affected
Mr. Phạm Chí Cường, VNSA Chairman, pointed out the reasons behind the price hikes, that are the increasing steel demand as the world economy is recovering and the restraint of raw material exportation as most countries focus on developing their domestic markets.
And these price hikes have marked up the domestic price of Việt Nam to VND 15 million/ton as the country cannot produce its own coke while heavily depending on steel billet and scrap to produce steel, Mr. Cường continued.
As imported raw materials must be put into steel production instantly, steelmakers cannot stock-up their steel billet too long and in large quantity. At present, the whole nation only has a total amount of 480,000 tons of steel billet, just enough for one-month production. Meanwhile the price of steel billet is forecast to higher increase in the time to come.
What's next for VN's steel in future?
As said, Việt Nam is currently the leading steel consumer in Southeast Asia, steel steelmakers must raise the selling price and most of them avoid to sell out all their stock.
However, VNSA has pledged to take a lead in stabilizing the market, ensuring steel supply, and avoiding speculation and frauds which can hurt consumers' right.
Chairman Cường also requests key managers of the sector to regularly submit their reports on market performance, to propose solution to halt price hikes, and especially to stop bringing "shock" to consumers.
By Trinh Nguyễn