VN's economic highlights in 2017
VGP - Viet Nam's economic growth has been improved in 2017 thanks to considerable progress by all economic sectors with all 13 socio-economic development norms set by the National Assembly for 2017 fulfilled, including achievements in GDP growth and records made in export-import turnover and FDI attraction.
December 29, 2017 2:39 PM GMT+7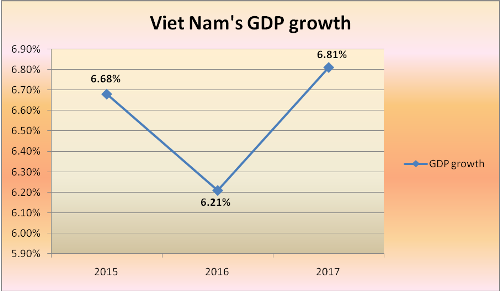 Photo: VGP/Thuy Dung

GDP expands 6.81%, exceeding set target
The gross domestic product (GDP) growth in 2017 picked up 6.81%, surpassing the Government's set target of 6.7%.
The GSO reported that the economy in 2017 was worth VND 5 quadrillion (equivalent to US$ 223 billion); the average GDP per capita is estimated at VND 53.5 million (US$2,385), up US$170 compared to the 2016 rate. Goods and service exports increased by 16.74% while imports of goods and service rose by 17.5%.
The economic structure transformed positively in which the agro-forestry-fishery sector accounted for 15.34%; industrial and the construction sector made up 33.34%; the service sector occupied 41.32%. Product tariffs accounted for 10%.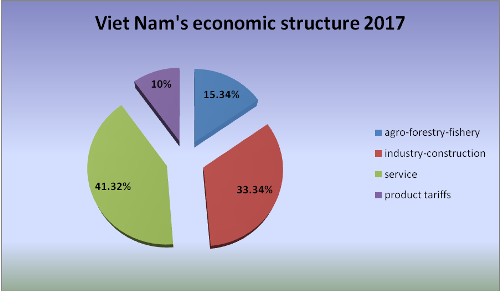 Photo: VGP/Thuy Dung

Total export-import turnover exceeding US$400 billion
Viet Nam's total export-import turnover since the beginning of the year has reached US$400 billion, recording the highest trade surplus ever, with US$3.17 billion.
Viet Nam Customs has just announced the export and import situation of the first 11 months on December 19, 2017. Total export and import turnover hit US$385.77 billion in the first 11 months, up 21.4%, which is the highest on-year increase ever, adding US$200 billion compared to 2011.
Specifically, total export turnover hit US$194.47 billion, up 21.5% or US$34.44 billion against the same period last year while total import turnover hit US$191.3 billion, up 21.2%.
FDI in VN rose 44% to hit new record
Viet Nam has remained an attractive destination for foreign investors in 2017 with total FDI capital registered in the country hitting a record high of US$35.88 billion, up 44.4% against last year.
Of the sum, US$21.27 billion came from 2,591 new projects, up 42.3% against last year. Another US$8.41 billion was added to 1,188 existing projects, 49.2% higher than last year.
The remainder of the FDI, worth US$6.19 billion, came from 5,002 deals made by foreign investors to contribute capital to businesses and to buy shares of Vietnamese businesses, jumping 45.1% compared to last year.
In 2017, FDI disbursement also saw a record setting, as it increased 10.8% to US$17.5 billion. In the previous years, the capital influx reached only some US$11-12 billion.
VN welcomes nearly 13 million foreign tourists
Viet Nam received around 13 million foreign visitors this year, a year-on-year increase of 28%.
The growth brings turnover of the tourism industry to nearly VND515 trillion (US$23 billion) this year, which is up 25.2% against last year and contributes 7% to the country's GDP.
Number of newly-established enterprises up 15.2%
The total number of newly-established enterprises in 2017 was nearly 127,000 with total registered capital of VND1.3 quadrillion, witnessing respective increases of 15.2% and 45.4% against last year.
The number of enterprises resuming their operations was around 26,000 with total additional capital of VND1.86 quadrillion.
The total number of newly-established firms and firms resuming operations set a record with more than 153,000 companies with total registered capital of VND3.16 quadrillion, breaking the record of 110,000 firms last year.
Average registered capital was VND10.2 billion per company in 2017, up 26.2%.
Agriculture-forestry-aquaculture exports exceed US$36 bln
The export turnover of agriculture-forestry-aquaculture products were estimated at US$36.37 billion in 2017, up 13% from 2016.
The exports of agricultural, aquatic and forestry products reached US$18.96 billion, US$8.32 billion and US$7.97 billion, witnessing respective increases of 15.7%, 18% and 9.2%.
Goods retail sales, service revenues up 10%
Viet Nam's total goods retail sales and consumer service revenues were over VND 3,934 trillion this year, up 10.9% against last year.
Viet Nam's goods retail sales stood at more than VND2,937 trillion.
By Thuy Dung