VN's agro-fishery exports accelerate from early days of 2021
VGP – The opening days of January saw businesses conduct several shipments of agricultural and aquatic products, marking a favorable start to Viet Nam's export activities in the whole year 2021.
January 29, 2021 4:42 PM GMT+7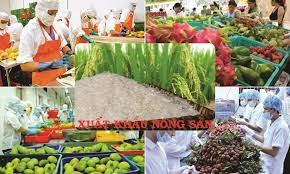 Viet Nam's agro-fishery exports accelerate from early days of 2021

Numerous orders
Recently, in the Mekong Delta city of Can Tho, the Ministry of Agriculture and Rural Development and the Can Tho municipal People's Committee announced the exports of the first batch of rice in 2021.
Accordingly, 1,600 tons of Jasmine 85 and Huong Lai fragrant rice was exported to the Singaporean and Malaysian markets by the Trung An High-Tech Agriculture JSC.
In addition to the aforementioned shipment, the company has received an export order from Germany for over 2,000 tonnes of rice, a shipment which will enjoy preferential tariffs under the EU-Viet Nam Free Trade Agreement (EVFTA).
Within only a week, Vietnamese firms exported more than 100,000 tons of rice to many markets around the world. Together with rice, a series of aquatic items, such as shrimp, squid, tuna and octopus, as well as fruits like dragon fruit and melon also gained entry into the markets of the EU, the US, Japan, Canada, Australia and China on the opening days of the year.
Opportunities to expand markets from FTAs
Regarding the markets of Japan and the Republic of Korea, despite years of negotiations, Viet Nam has gained export permit for just two to three types of fresh fruits.
However, with the Regional Comprehensive Economic Partnership (RCEP), the negotiation to export new agricultural products and fruits will be conducted in a faster and more favorable manner. This is a key point anticipated by many exporting businesses.
For example, in the RCEP agreement, the Chinese market currently allows the exports of just 10 fresh fruit and vegetable items through official channels, but in the near future some other fresh Vietnamese products such as durian, passion fruit, pomelo, avocado, star apple and plum, may be permitted to enter the country.
As for the EVFTA which came into force in August 2020, local firms have initially taken advantage of the deal's incentives to boost exports to the EU.
However, Viet Nam's agro-forestry and fishery export revenue with the market has yet to make significant progress. Therefore, in the time ahead, Vietnamese enterprises will have to improve the quality of their products in order to make better use of preferences from this agreement.
By Vien Nhu