VN withdraws hosting of ASIAD
VGP - PM Nguyen Tan Dung has decided to withdraw from hosting the 18th Asian Games (ASIAD-18), which is slated for Ha Noi in 2019, according to the Prime Minister's Office on April 17.
April 17, 2014 8:54 PM GMT+7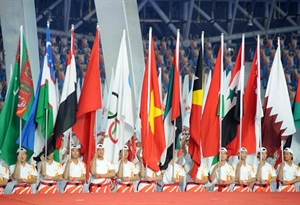 Viet Nam's flag (Middle) at ASIAD 16. Photo: VNA
The Office released the conclusion on the hosting of ASIAD-18 of the PM who assigned relevant agencies to work with the Olympic Council of Asia (OCA) and relating partners on the option of withdrawing the hosting of the event.
While the country has no experience in organising big sports events like ASIAD, the hosting has not been prepared thoroughly, accordingly to the conclusion.
The PM has yet approved the plan on the organisation of ASIAD-18, the conclusion said.
Meanwhile, consensus has yet been reached on the goal and significance of hosting the event as well as total investment and specific funding sources.
Impacts from the global financial crisis and economic downturn are still on the national economy. The country's socio-economic situation remains in difficulties.
The State budget is limited and prioritized for other urgent projects. Investment sources to build new facilities in service of the event, which was proposed to mobilise from society and ASIAD revenue, are insecure, it explained.
Hosting and successfully organising regional and international sports events will contribute to socio-economic development, promoting the country's images and increasing its position. However, if fails to do so, the effects will be reversed, says the decision.
The Government of Viet Nam thanked the OCA for supporting the country in developing sports and Hanoi, in particular, in hosting the ASIAD 18.
Viet Nam, however, will request for hosting the games in an appropriate time, the conclusion said.-VNA