VN, U.S. sign Customs Mutual Assistance Agreement
VGP – Viet Nam and the U.S. have signed the Customs Mutual Assistance Agreement in Ha Noi on December 6, under the witness of Vietnamese Deputy Prime Minister Vuong Dinh Hue.
December 07, 2019 2:36 PM GMT+7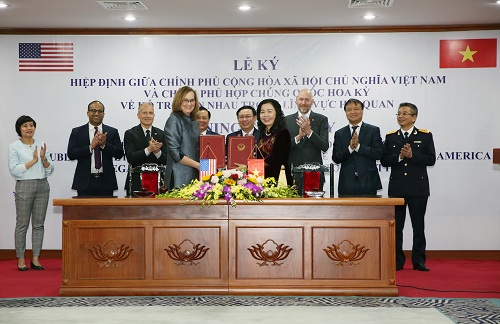 At the signing ceremony. Photo: VGP
Vietnamese Deputy Finance Minister Vu Thi Mai and U.S. Deputy Chief of Mission in Viet Nam Caryn McClelland on behalf of signed the agreement, marking a significant milestone in collaboration on security and facilitation of lawful trade between the two countries.
Addressing the signing ceremony, Mai highlighted the Viet Nam-U.S. economic relations have advanced remarkably with the two-way trade increasing by over 16% annually to more than US$60 billion.
The agreement offers a legal basis for the official relationship and the cooperation, technical assistance and information exchange mechanism between the two countries' customs agencies, aiming to prevent, detect and handle violations of customs laws.
Particularly, in the context of the increasing Viet Nam-U.S. trade relations, assistance activities based on the agreement will make contributions to facilitate bilateral trade and combat frauds and the illegal transportation of goods across each other's territory to evade trade remedies.
For her part, Caryn McClelland hailed the agreement as an important document in Viet Nam-U.S. trade ties, affirming that the U.S. wishes to cooperate with Viet Nam in various areas aiming to accelerate bilateral trade ties.
After the signing, Viet Nam and the U.S. will continue to implement internal procedures to put the agreement into effect.
By Thuy Dung