VN, US leaders exchange greetings on 25th anniversary of ties normalization
VGP – Party General Secretary, State President Nguyen Phu Trong and US President Donald Trump have exchanged congratulatory letters on the occasion of the 25th anniversary of normalization of diplomatic relations between the two countries.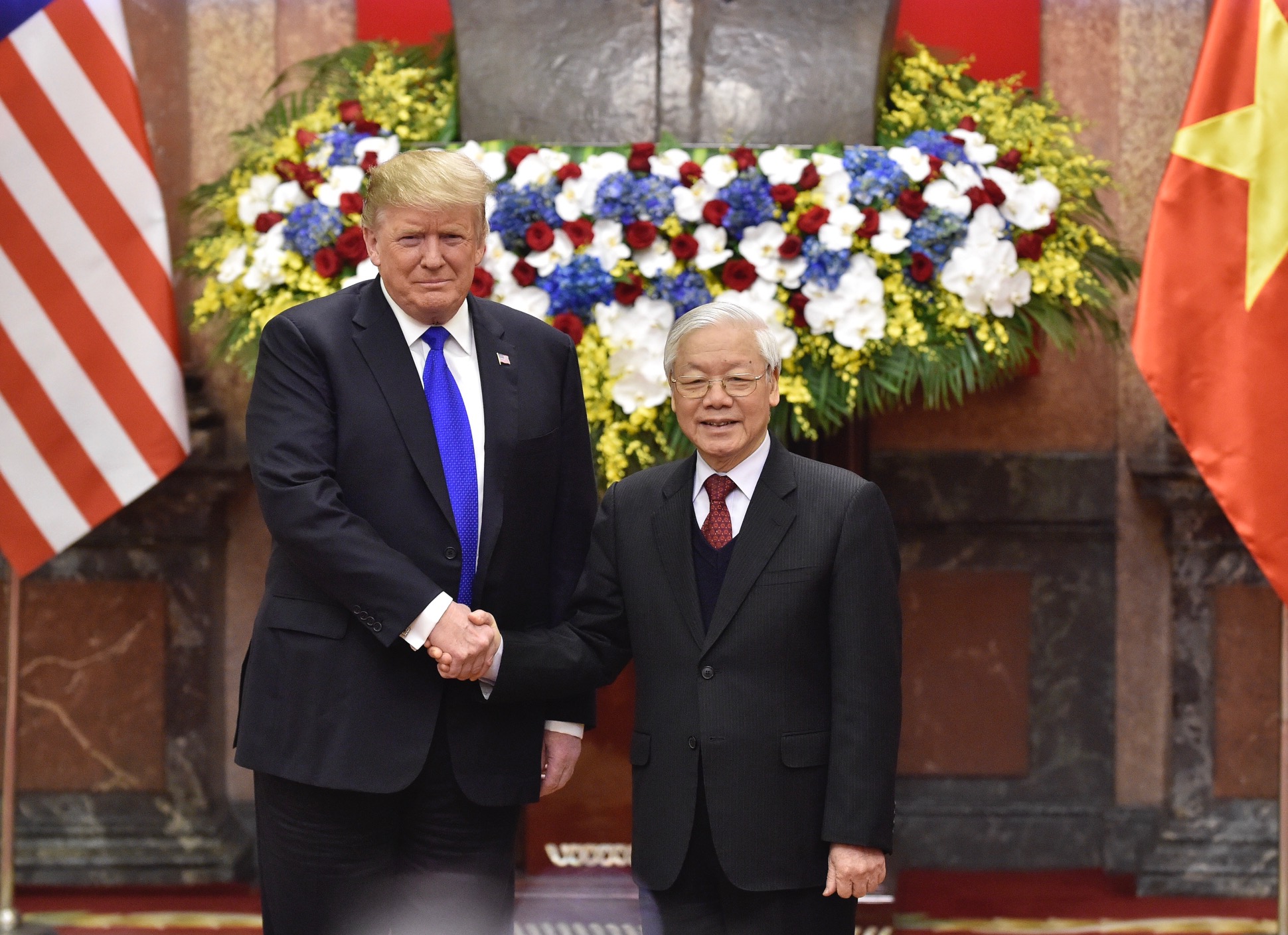 Party General Secretary, State President Nguyen Phu Trong (right) meets with US President Donald Trump in Ha Noi on February 27, 2020. Photo: VGP
>>> VN, US enjoy remarkable cooperation achievements since normalization of ties, Ambassador says
>>> Top 5 diplomatic events in first half of 2019, video included
In his letter addressed to President Trump, Trong wrote that during the past 25 years, both countries have overcome geographical distance and divergences to advance the bilateral ties in a progressive and stable manner, making the US one of Viet Nam's top partners in various fields.
In receent years, the two nations have actively maintained effective cooperation, focused on removing obstalces, especially those related to trade and finance, and gradually consolidated and enhance the comprehensive partnership on the basis of respect for the United Nations Charter, international law, and each other's political systems, independence, sovereignty and territorial integrity.
Under the spirit of shelving the past, overcoming divergences, promoting similarities and looking to the future, Trong expressed his belief that the Viet Nam-US comprehensive partnership would continue to be further deepened effectively and sustainablly for the benefits of the two peoples and for security, peace and prosperity in the region and the world.
Meanwhile, President Trump wrote that the advancement of the bilateral ties is a special miracle, creating foundations for mutual confidence and understanding, allowing us to establish the comprehensive partnership evidenced by growing trade exchanges, people-to-people connectivity, strategic cooperation, and joint efforts in addressing humanitarian issues and war legacy.
Trump pleged that the US maintains its commitments to further enhancing and expanding the bilateral ties on the basis of the shared vision on a peaceful and prosperous Indo-Pacific region as well as mutual respect for sovereignty and rules of law.
On the occasion, Prime Minister Nguyen Xuan Phuc amd Chairwoman of the National Assembly Nguyen Thi Kim Ngan also exchanged congratulatory messages with President Donald Trump, Vice President Micheal Pence, and House Speaker Nancy Pelosi.
Deputy Prime Minister, Foreign Minister Pham Binh Minh extended congratulations to US Secretary of State Michael Pompeo./.
By Thuy Dung