VN, US discuss issues of common concern
VGP – Deputy PM, FM Pham Binh Minh on Tuesday welcomed US Senator Benjamin Cardin's visit to Viet Nam, saying it is an effective way for both sides to frankly and openly discuss issues of common concern.
May 27, 2014 8:40 PM GMT+7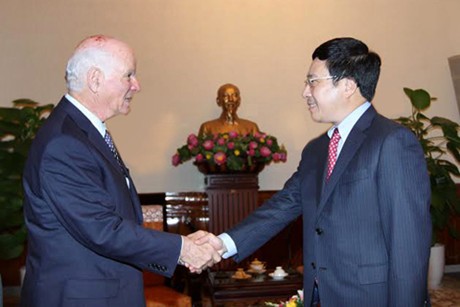 Deputy PM, FM Pham Binh Minh welcomes US Senator Benjamin Cardin, Ha Noi, May 27, 2014 - Photo: VGP
Deputy PM, PM Minh said this is a convenient time for both sides to vigorously strengthen the bilateral ties, thus he urged the US Congress to support and foster the exchange of delegations at all levels, continue opening market for Vietnamese goods while reducing trade barriers.
Deputy PM, FM Minh also hoped for flexibility in the Trans-Pacific Partnership (TPP) talks as pledged by the US.
Mr. Cardin, who is also the chair of the East Asian and Pacific Affairs Subcommittee of the Senate Foreign Relations Committee, noted that the bilateral ties have been positively advancing in various fields, contributing to peace and stability in the region.
He voiced his support for the two countries in implementing the comprehensive partnership and for early conclusion of TPP talks.
Both Deputy PM, FM Minh and the US Senator exchanged views on regional and international issues, including the current situation in the East Sea./.
By Hai Minh