VN, US amend air transport agreement
VGP - Vietnamese Minister of Transport Hồ Nghĩa Dũng and US Ambassador to Việt Nam Michael Michalak on May 18 signed an agreement to extend the accord on bilateral air transport till March 31, 2012.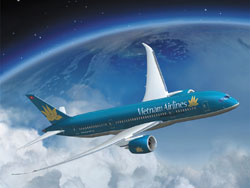 Vietnam Airlines, the national flag carrier, is preparing for direct flights to the US

The renewed agreement also extends the existing clauses, so that airlines of the two countries can expand operation, especially cargo flights.

The two countries have enforced the amended agreement since signing the "Open Sky Policy" in 2008, said Võ Huy Cường, head of the Air Transport Department, part of the Civil Aviation Administration of Việt Nam, noting that the main clause of the agreement remains unchanged. Accordingly, each side has the right to designate three carriers, and the US carriers have no right to transport local passengers between Việt Nam and Taiwan and Japan.

Two US airlines, namely the United Airlines and Northwest Airlines, have respectively run San Francisco-Hồ Chí Minh City flights via Hong Kong since December 2004, and flights between Los Angeles via Japan's Tokyo to Hồ Chí Minh City since June 2009. FedEx is also launching cargo flights between the two countries.

Carriers of the two countries, including Vietnam Airlines, American Airlines, and Delta Airlines are developing indirect flights by contracting with third parties to launch flights via third countries or territories such as Japan, the Republic of Korea, Taiwan, and France.

Vietnam Airlines is preparing for direct flights to the US by extending those from Việt Nam to Japan.

The Việt Nam-US Air Transport Agreement was signed in December 2003 and was valid in five years since March18, 2004.