VN, Ukraine agree to bolster multifaceted cooperation
VGP - PM Nguyễn Tấn Dũng has reached an agreement on boosting Việt Nam-Ukraine traditional friendship and all-round cooperation with Ukrainian President Viktor Yanukovych and Ukrainian Parliament Chairman Volodymyr Lytvyn on October 5.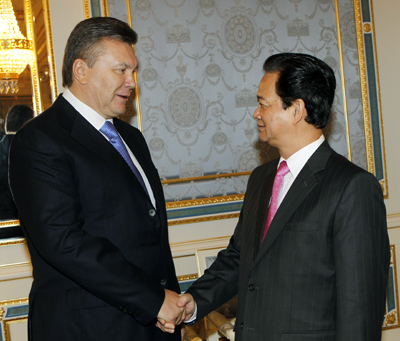 PM Nguyễn Tấn Dũng met with Ukrainian President Viktor Yanukovych – Photo: VGP
During the meeting with Ukrainian President Viktor Yanukovych, the two sides discussed and agreed on various orientations for raising the efficiency of bilateral cooperation, especially in economy, trade and investment.
They agreed that the two countries will also take measures to enhance the operation of the Việt Nam-Ukraine joint-government committee for economic, trade, scientific and technical cooperation; perfect the legal foundation for the facilitation of bilateral cooperation in mutual recognition of farm product quality tests, quarantine, animal and plant protection, export…
PM Dũng stressed that Việt Nam is ready to create conditions for Ukrainian firms to invest in Việt Nam in such fields as machine and aircraft production, shipbuilding, energy, and agriculture. He hoped the two sides will expand cooperation in designing, building and upgrading power facilities.
PM Dũng proposed that the Ukrainian President should continue facilitating Vietnamese enterprises to do business in Ukraine as well as those who are living there, along with beefing up cooperation in education, training, culture, science and technology.
The Ukrainian President said his country is willing to cooperate with and assist Việt Nam in the fields of oil and gas, mineral processing, science, technology, space, electric machine production, security, defense…
PM Nguyễn Tấn Dũng met with Ukrainian Parliament Chairman Volodymyr Lytvyn – Photo: VGP
Meeting with Ukrainian Parliament Chairman
Volodymyr Lytvyn, PM Nguyễn Tấn Dũng reiterated Việt Nam's policy of continuing to reinforce and strengthen the traditional friendship and cooperation with Ukraine.
PM Dũng wanted the Ukrainian Parliament to actively help boost the bilateral ties by providing legal assistance and supervising agreements signed by the two governments.
The Ukrainian Parliament Chairman wanted the two top legislatures to continue to exchange delegations, share law-making experiences, and closely coordinate with each other in international forums.
By Ngọc Vân