VN, Turkey expect trade value of US$1 billion
VGP – Receiving the newly-appointed Turkish Ambassador Ahmed Akif Oktay on September 24, Deputy PM Hoang Trung Hai confirmed that Viet Nam desires to establish long-term and effective relations with Turkey.
September 24, 2012 6:43 PM GMT+7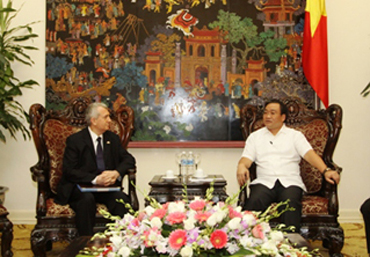 Deputy PM Hoang Trung Hai received Turkish Ambassador Ahmed Akif Oktay on September 24, 2012 - Photo:VGP/Le Tuan
The Deputy PM expected that the Ambassador will actively contribute to strengthening the two nations' relationship and cooperation.
The Deputy PM applauded the two-way trade turnover of US$852 million in 2011 and hoped that the bilateral trade value will reach US$1 billion in 2012.
Deputy PM Hai proposed that the two sides need to exchange delegations at all levels as well as support each other at regional and international forums.
The Deputy PM suggested Turkey support Viet Nam to run for a non-permanent seat in the United Nations Security Council in the term 2020-2021, the UN Human Rights Council in 2014-2016 and the UN Economic and Social Council in 2016-2018.
Ambassador Ahmed Akif Oktay revealed that, in the future, Turkey will organize activities to boost up exchanges and businesses in Viet Nam such as opening trade fair and direct air route between Viet Nam and Turkey.
He hoped that Vietnamese Government will create favorable conditions for two countries' partners to cooperate.
By Thuy Dung