VN to produce 10,000 COVID-19 test kits daily
VGP - Phan Quoc Viet, General Director of Ho Chi Minh City-based Viet A Corporation, said the company is capable of producing 10,000 COVID-19 test kits right on March 6 and the capacity would increase by three times if necessary.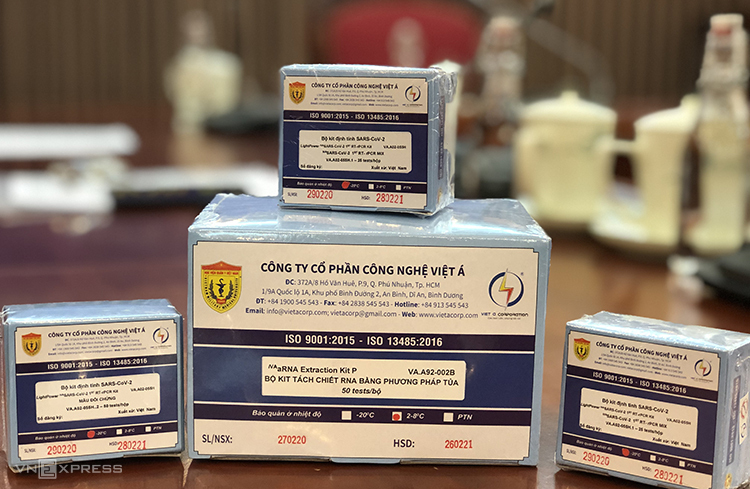 THe biological test kits developed by the Military Medical Academy and Viet A Corporation
>>> Latest update on Gov't responses to COVID-19 epidemic
>>> Daily COVID-19 update: More people tested negative, quarantined
The test kits, jointly developed by the Military Medical Academy and Viet A Corporation, have been approved by the Ministry of Health for massive production as they generate accurate results after more than one hour.
Earlier, the Ministry of Science and Technology had called on scientists to help deal with the new coronavirus, saying making test kits is a priority.
Nguyen Van Kinh, Chairman of the Viet Nam Society of Infectious Diseases (VSID), said the nation must produce its own biological test kit to avoid relying too much on international support and enable it to thoroughly screen people.
Meanwhile, Phan Trong Lan, Director of the Ho Chi Minh City Pasteur Institute, and Tran Dac Phu, former director of the General Department of Preventive Medicine, also agreed that the country should make its own test kits.
There have been no infection cases since February 13 in Viet Nam but the epidemic is spreading quickly on the globe, with the outbreaks growing fast in South Korea, Italy and Iran.
At least 80,404 people contracted the virus, including 3,013 fatalities around the world.
The World Health Organization said the data available as of Tuesday suggested the virus could be more lethal, but less easily transmitted than previously thought./.
By Huong Giang