VN to host Business Summit on sidelines of WEF ASEAN 2018
VGP – The 2018 World Economic Forum on ASEAN (WEF ASEAN 2018) will formally take place in Ha Noi from September 11 to 13, with the participation of heads of states, international organizations, leading businesses and large media partners in the world.
August 31, 2018 5:19 PM GMT+7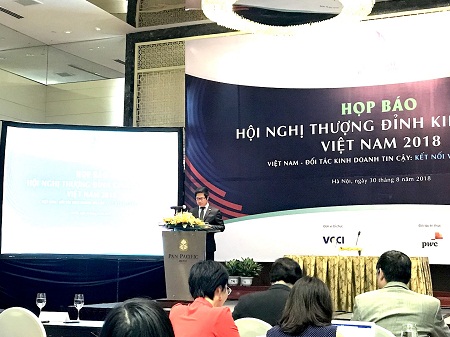 Photo: VGP
Within the framework of the WEF ASEAN 2018, the Viet Nam Business Summit will be held at Ha Noi's National Convention Center on September 13 under the theme "Viet Nam: Trusted Partner – Innovative Connection". The conference will focus on discussing Viet Nam's role in the regional and global value chain, while introducing the country's policy environment and investment opportunities, especially in the areas of finance and infrastructure.
Vietnamese Prime Minister Nguyen Xuan Phuc and WEF President Borge Brende are expected to deliver speech at the opening plenary session of the WEF ASEAN 2018, hold dialogue with the business community, and discuss the role played by Viet Nam in the ASEAN and global value chain.
There will be also a session to introduce Viet Nam's new opportunities in business, with the participation of leaders from the Vietnamese ministries and sectors, and representatives from international organizations and enterprises.
The WEF ASEAN 2018 is expected to gather more than 1,200 business representatives, including the world's leading companies which are WEF members, enterprises from economic powers (the U.S., Japan, the Republic of Korea, and ASEAN), foreign business associations in Viet Nam, embassies, diplomatic and economic missions, and international organizations.
The conference offers an opportunity for domestic and foreign enterprises to access opportunities to directly connect with the leaders of leading firms in ASEAN and around the world; get an insight into the situation of the Vietnamese economy in the global and ASEAN value chains; explore new business opportunities in Viet Nam; exchange investment opportunities and experience in a variety of industries; and seize the new trends and visions on business operations in the region to design appropriate plans and strategies.
Annually, the WEF organizes many global and regional forums, bringing together government leaders, business leaders, social and religious organizations, and scholars from around the world to discuss pressing issues and global issues.
By Vien Nhu