VN to build two nuclear power plants next decade
VGP – The majority of NA deputies today voted for the construction of two nuclear power plants in the central province of Ninh Thuận.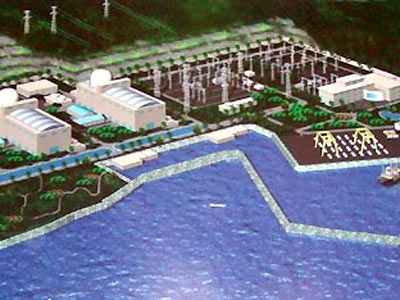 The design of the first nuclear power plant in Phước Dinh Commune, Ninh Phước District, Ninh Thuận Province – Photo: VGP
The first one will be built in 2014 in Phước Dinh Commune, Thuận Nam District and comes into operation in 2020 meanwhile. The second one will be built later in Vĩnh Hải Commune, Ninh Hải District.
The total capacity of the two plants is over 4,000MW while their total investment reaches VND 200,000 billion (based on the price of the 4th quarter of 2008).
Both the two nuclear power plants will be equipped with the light water reactors (LWRs) which are now widely used by countries around the world.
The NA assigned the Government to quickly finalize master plan and designs of the first project; select contractors and prepare qualified human resource.
Also this morning, the NA gave permission on the construction of the Lai Châu hydro-power plant in Mường Tè District, northern province of Lai Châu.
The VND 32,600-billion plant is expected to add over 1,200MW to the national electricity grid. Its first turbine is scheduled to come into operation in 2016 and the whole project will be completed in 2017.
These power projects are expected to meet the country's soaring electricity demand in long-term vision.
By Hải Minh