VN, Switzerland boost banking cooperation
VGP – A forum themed "Vietnamese banking future" was jointly held on April 14 in Da Nang by Switzerland's State Secretariat for Economic Affairs (SECO) and the State Bank of Viet Nam.
April 15, 2016 1:41 PM GMT+7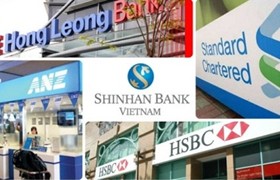 Illustration photo
The event marked the 45th anniversary of diplomatic ties between Viet Nam and Switzerland and was part of a joint training program between SECO and the SBV.
SBV Deputy Governor Nguyen Kim Anh announced that the banking system fulfilled the set goals of reining in inflation and stabilizing the foreign exchange market. The banking system contributed remarkably to the country's 6.68% economic growth in 2015.
Thanks to vigorous reforms and proper responses, Viet Nam avoided global 'shocks', attained economic growth, and bettered the quality of the credit system, said Mr.William Mah from PWC, Malaysia.
The expert predicted that the young population offers great opportunities for the Vietnamese banking system. Statistics showed that the number of bank account owners remained modest in which only 15% of over 15-year-old people hold credit cards. Meanwhile, over 40% of them are Internet users. The number of mobile users is highest in the world. The banking system can seize these opportunities to provide services like Internet banking and mobile banking for their customers.
He also proposed domestic banks improve risk management capacity and apply modern administration system.
Dr. Rob Straw from Sfi Swiss Finance Institute emphasized technology and manpower as key factors./.
By Khanh Phuong