VN shows determination to fight back TB
VGP - The 18th meeting of the Stop TB Partnership Coordinating Board was held today by the Vietnamese Ministry of Health in Hà Nội to map out concrete strategies for the battle against the serious disease.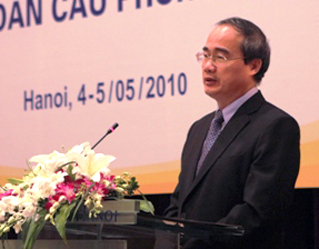 Deputy PM Nguyễn Thiện Nhân says, at the 18th meeting of the Stop TB Partnership Coordinating Board, held in Hà Nội on May 4, 2010, that Việt Nam will support all global activities to fight back TB – Photo: VGP/Từ Lương

As reported by the Stop TB Partnership, nearly two million people died of Tuberculosis (TB) each year throughout past 50 years.

Việt Nam ranks the 12th among 22 countries that have the largest number of people dying of the disease, the World Health Organization reported. At least 150,000 people confronted with the disease each year in the country.

Addressing the event, Deputy PM Nguyễn Thiện Nhân made clear that the Government's roles are to protect good health for its people and to particularly fight back TB disease.

The Government has recently passed the Law on Health Insurance to make sure that its entire people can be taken care by health services. More governmental bonds have been also issued to attract investments for health sector.

He applauded all social activities taken by the Stop TB Partnership to raise public awareness of the worldwide prevention and treatment of the disease, as well as the proposals of new and innovative TB treatment techniques.

Việt Nam has set a target to lower its TB infected and death toll to 50% by 2015 as compared to 1990.

The Stop TB Partnership was established in 2001 building upon the Stop TB Initiative that was launched by WHO in 1998 and following a call at the Amsterdam Ministerial Conference in 2000. Its aim is to realize the goal of eliminating TB as a public health problem and, ultimately, to obtain a world free of TB. It comprises a network of international organizations, countries, donors from the public and private sectors, governmental and nongovernmental organizations and individuals that have expressed an interest in working together to achieve this goal.