VN should prioritize macro-economic stability in 2010, experts propose
VGP – Many economists advised Việt Nam to prioritize macro-economic stability in 2010 as this is the precondition to secure major balances of the national economy.
The Ministry of Finance (MoF) on Tuesday organized the "Workshop on financial policy making in the period of post-crisis."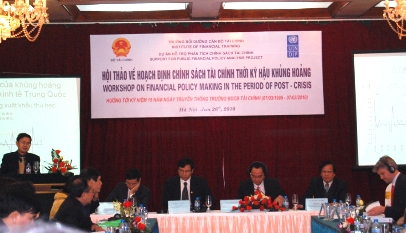 Economists to the "Workshop on financial policy making in the period of post-crisis" held in Hà Nội on January 26, 2010 propose that Việt Nam should prioritize macro-economic stability – Photo: VGP/Giang Oanh

Challenges still lies ahead
Việt Nam's economy attained a rising quarter-on-quarter growth rate in 2009 with the whole-year GDP of 5.32%. International financial institutions said that the Southeast Asian country overcame its hardest time and is gradually getting back on the track of stable development.
However, some emerging challenges, which may damage the country's stable economic recovery in 2010, would be the possible recurrence of inflation, pressure on devaluation of Vietnamese currency, and payment-budget deficit, according to the MoF's Consultant Group.
Mr. Phạm Văn Hà from the Consultant Group said that the monetary market shows 'hot' signs as many enterprises have had to acquire Vietnamese currency loans at the lending rate of nearly 19% per year right in January, despite the existing legal regulations which stipulate that banks are not allowed to provide loans at interest rates exceeding 12% per year. This might be one of reasons for the recurrence of inflation, he commented.
Moreover, the global economic recovery has caused prices of many categories of commodities to hike back again, leading to a considerable pressure on the consumer price index (CPI) increase. In addition, fast-growing trade deficit and the surge in Vietnamese currency value against the Greenback have also led to the current account deficit.
Economist Vũ Thành Tự Anh from Harvard University said that the above pressure is very harmful to the macro-economy.
Priority given to macro-economic stability
Delegates proposed that Việt Nam should give priority to macro-economic stability in 2010 as it is the precondition to secure major balances of the national economy.
If Việt Nam only pursues short-term economic growth without taking into consideration of other indicators, it will have to face instability and slow economic growth in medium and long-terms, Mr. Anh stated.
To prevent inflation, experts advised the State Bank of Việt Nam to follow cautious monetary policy in order to control credit growth and money supply.
The Government's decision to pull back interest rate subsidies of 4% given to short-term loans is among measures to tighten lending activities and encourage enterprises to exchange the Greenback into Vietnamese currency to meet the market's working capital and ease pressure on the foreign exchange market.
The World Bank's senior economist to Việt Nam Martin Rama noted that Việt Nam's economy still basically lacks of capital.
To secure sustainable development in 2010, he suggested, financial policies should focus on three priorities, namely diversification of exports, further development of the capital market, and multi-channel information exchanges.
Regarding fiscal policies, Mr. Hà suggested the Government should head its assistance from non-trade sector to export activities, loosen fiscal policies and narrow budget deficit.
Another solution, as the experts underlined, is that the Government needs to continue improving the capacity of the financial-monetary supervision system as a good way to effectively monitor the national financial panorama.
By Hải Minh