VN reports 8th Covid-19 death
VGP – The Ministry of Health has confirmed Covid-19 patient 496 has passed away, raising the number of fatalities to eight.
August 04, 2020 5:14 PM GMT+7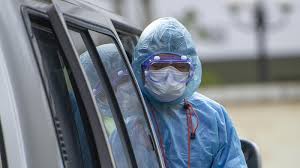 VN reports 8th Covid-19 death
The 65-year-old man died from Covid-19, kidney failure and other health problems.
The patient, who had been released from Da Nang Hospital on July 24 after 5 months of treatment for kidney disease, tested positive for coronavirus on July 28.
His death was confirmed at 8:30 am the same day with causes of end-stage chronic renal failure, sepsis, acute heart failure and COVID-19.
Earlier, the Ministry confirmed that Covid-19 patient 426 has passed away. The fatality is a 62-year-old woman from Hoa Vang District, Da Nang City. She has suffered from chronic kidney failure over the past 10 years.
Her causes of death included acute heart and kidney failure, septic shock, multi-organ failure, and Covid-19, deputy health minister Nguyen Truong Son said.
The country has reported 652 coronavirus infections, including 270 cases under treatment.
Since the recurrence of the virus among the community on July 25, Da Nang has recorded the highest number of infections with 142, becoming the pandemic's latest epicenter in Viet Nam, followed by neighbouring Quang Nam with 44.
Some patients are at high risk of fatality due to severe underlying health issues and old age, he noted.
By Hoang Ha