VN rejects China's new "cow tongue" map
VGP – Viet Nam rejects China's new vertical map that includes a cow tongue line covering nearly the entire East Viet Nam Sea, said Foreign Ministry's Spokesperson Le Hai Binh at a press conference on June 26.
June 26, 2014 7:28 PM GMT+7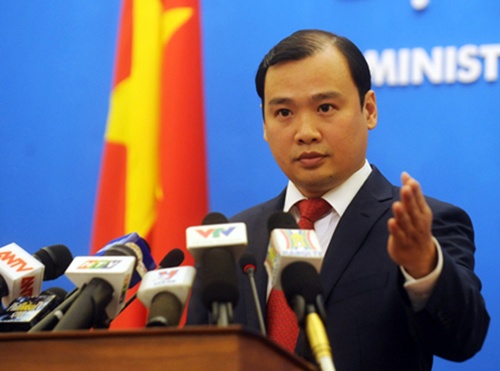 Spokesperson of the Vietnamese Foreign Ministry Le Hai Binh
The Chinese map seriously violates international law, affirmed the Spokesperson.
Xinhua News Agency publicized the illicit map on June 25, saying that the islands in the East Viet Nam Sea are shown clearer in the new map than in China's traditional maps.
The Philippines also slammed China's publishing of the new vertical map which shows contested isles and reefs as part of its territory.
Foreign Affairs spokesman Charles Jose called China's latest move asserting its contentious maritime claims as seen in the map as an "ambitious expansionism." The map uses the "nine-dash line" defining 80 percent of the waterway within its sovereignty.
With the illegal boundary line, China puts nearly all of the East Viet Nam Sea, including Hoang Sa (Paracel) and Truong Sa (Spratly) archipelagoes, under its sovereignty.
Beside the illicit oil rig Haiyang Shiyou 981 in Viet Nam's exclusive economic zone, China is also escalating tension in the East Viet Nam Sea by moving a similar oil rig named Nanhai 9 to 17 degrees 14,1 minutes north latitude and 109 degrees 31 minutes east longitude.
China also informed that its geophysical survey vessel Yang Shi You 719 is operating in the East Sea since June 23-August 28, 2014.
Both China's new drilling platform and geophysical survey vessel are now operating in the overlapped areas outside of the mouth of the Tonkin Gulf that has not been delimited between Viet Nam and China, Mr. Binh said, adding that Viet Nam will closely follow the situation.
Mr. Binh re-affirmed Viet Nam's sovereignty over the Hoang Sa and Truong Sa archipelagos and demanded China immediately stop all the illegal actions, respect international law, strictly implement the Declaration on the Conduct of Parties in the East Sea and not repeat the same actions in the future.
The international community has voiced grave concern over what China is doing in the East Viet Nam Sea. Recently, Singaporean PM Lee Hsien Loong called for resolution of territorial disputes through international law instead of using might.
However, China, a member of the United Nations Security Council, is taking more perverse and ambitious actions in order to assert its groundless sovereignty.
It seems that China is pressing Viet Nam and the Philippines to defer to China's ridiculous demand but State President Truong Tan Sang declared that NO ONE, NO COUNTRY can force Viet Nam to make concessions on territorial sovereignty.
State President Sang recalled the words that King Le Thanh Tong once said to his royal court, which were recorded in Dai Viet Su Ky Toan Thu (The Complete Annals of Dai Viet): "How can we abandon even a single inch of our mountain, our river? You must firmly stand your ground, not letting them gradually encroach. If they do not listen, we can send our envoys to the north to clarify justice. If you dare to concede even a single inch of the land of our ancestors to the enemy, it will be a crime deserving of death."/.
By Quang Trung