VN rejects China's historical evidence
VGP – China has increased its aggressive actions in the East Sea after it brazenly moved its deep-water drilling rig escorted by over 80 armed and military vessels and many airplanes to Viet Nam's waters since May 1.
June 16, 2014 9:33 PM GMT+7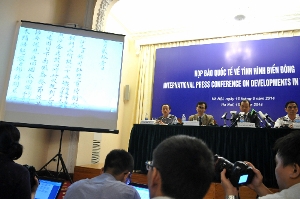 The 5th international press conference on developments in the East Sea - Photo: VNExpress.net
The statement was made by Vice Chairman of the National Boundary Commission Tran Duy Hai at the Vietnamese Ministry of Foreign Affairs' 5
th
international press conference on developments in the East Sea, which was held in Ha Noi on Monday.
China is also fabricating and distorting historical documents about its sovereignty claims over the Hoang Sa (Paracel) and Truong Sa (Spratly) archipelagos of Viet Nam.
Mr. Hai affirmed that Viet Nam consistently rejects all China's sovereignty claims because these claims are groundless.
Viet Nam has exercised its utmost restraint and demanded China immediately withdraw the rig as well as its ships from the exclusive economic zone and continental shelf of Viet Nam but China has failed to respond to Viet Nam's legitimate demand while slandering and blaming Viet Nam, and escalating its increasingly dangerous and serious acts of violations.
Many countries and international organizations, including ASEAN, the United Nations, the European Unions have voiced grave concern over what China is doing in the East Sea.
Recently, the International Association of Democratic Lawyers sent a letter to Chinese leaders to ask for China's clear-cut explanation about the reason why it placed the oil rig Haiyang Shiyou 981 into Viet Nam's exclusive economic zone and continental shelf.
International lawyers also requested China to clarify the number of vessels, aircrafts, military vessels deployed near drilling rig and provocative actions such as ramming, firing water cannon at Viet Nam law enforcement vessels, which caused craft damage and posed risks of casualties as well as attacks on Vietnamese fishing vessels since May 7, 2014.
No gesture of goodwill was made by China. China has rammed, fired water cannon at and damaged vessels 36 vessels of the Vietnamese fisheries surveillance and coast guard forces. More seriously China sank a Vietnamese fishing boat on May 26 with ten persons on board, Vietnamese officials reported.
Vietnamese leaders have called on international community to continue lodging strong protest against China's violations of Viet Nam's sovereignty over the Hoang Sa and Truong Sa archipelagos.
The Viet Nam Academy of Social Sciences (VASS) on June 3 made public a book that contains 46 documents in Han (Chinese script) and Nom (Vietnamese ideographic script) testifying to Viet Nam's sovereignty over Hoang Sa and Truong Sa.

The book includes many copies of original historical documents made public for the first time. They contain valuable and important information asserting Viet Nam 's sovereignty and exercise of sovereignty in the area. The oldest Han-Nom map depicting Hoang Sa as belonging to Viet Nam is "Thien Nam tu chi lo do thu" (Route Map from the Capital to the Four Directions) drawn by Do Ba in the 17 th century, in which Hoang Sa was called Bai Cat Vang.

The documents will serve as historical and legal evidence confirming Viet Nam 's sovereignty as well as its protection of sovereignty over the two archipelagos and its maritime zones in the East Sea, said VASS President Nguyen Xuan Thang.
These documents will be published in English, he added.

Viet Nam's sovereignty over the two archipelagos was also recorded in many history and geography books such as "Dai Viet su ky tuc bien" (Continuation of Historians' Records of Great Viet) compiled by Lord Trinh Sam in 1775, "Phu bien tap luc" (Miscellaneous Records of Pacification in the Border Area), "Dai Nam thuc luc" (Veritable Records of Dai Nam) by Le Quy Don in 1776, and "Dai Nam nhat thong chi" (History of Unification of Dai Nam) by the National Historiographer's Office of the Nguyen Dynasty.

The official documents of the Nguyen dynasty wrote that Nguyen Lords and Kings always paid attention to Hoang Sa and Truong Sa archipelagoes, considering them the sacred territories of the country.
At the press conference, Foreign Ministry's Spokesperson Le Hai Binh said Chinese State Councilor Yang Jiechi will visit Viet Nam this week./.
By Hai Minh