VN ready for ASEAN Year 2020: Foreign Ministry's deputy spokesperson
VGP – Viet Nam is ready for the ASEAN Chairmanship 2020, said deputy spokesperson of the Foreign Ministry Ngo Toan Thang at a regular press conference in Ha Noi on November 7.
November 08, 2019 10:58 AM GMT+7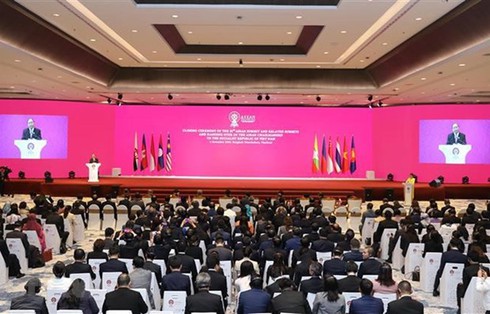 Viet Nam has been ready in terms of organizational apparatus, personnel and projects and overall action plans for the ASEAN Year 2020
Viet Nam officially assumed the ASEAN Chairmanship 2020 in Bangkok, Thailand on November 4, he said, stating that the country will soon implement and launch the official website of ASEAN Year 2020.
In the near future, Viet Nam will focus on preparing for the ASEAN Foreign Ministers' Retreat, scheduled for January 2020, which kick-starts a series of events during the year, the official noted.
According to Thang, Viet Nam will continue developing ideas and initiatives set for the year, while working to create unity and consensus within the bloc to implement those ideas in reality.
When asked about Viet Nam's contributions in promoting the completion of the signing of the Regional Comprehensive Economic Partnership (RCEP), he affirmed that as the ASEAN Chair 2020, Viet Nam will continue to work closely with each ASEAN country and other RCEP members to actively exchange to narrow the gap and promote the early finalization of the full negotiation of the RCEP, on the basis of ensuring comprehensiveness, balance and maximal benefits of the parties involved.
Viet Nam believes that when implemented, the deal will create a new driver boosting economic-trade cooperation between countries, contributing to the trend of integration and linkage in the Asia-Pacific region, Thang said.
By Vien Nhu