VN presents medical supplies to assist Oman in fighting COVID-19
VGP – Oman's Ambassador to Viet Nam Saleh Mohamed Ahmed al Suqri was delighted to receive a wonderful gift on May 14 from the Vietnamese people: medical supplies which were donated by Viet Nam Oman Investment (VOI) - a subsidiary of the State General Reserve Fund of Oman) and Aikya Pharmaceutical Group ("Aikya").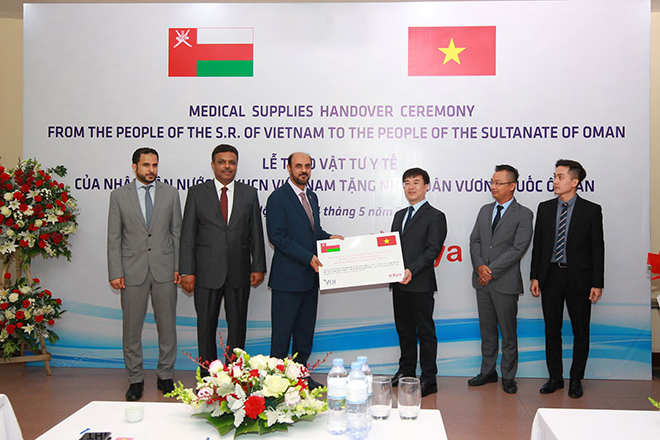 The medical supplies handover ceremony on May 14, 2020. Credit: Oman Embassy in Viet Nam
Accordingly, the first package of medical supplies will be transported to Oman includes: 100,800 Mebiphar medical masks ("
Mebilook
").
The Ambassador expressed his deepest appreciation for this support package, saying "This is really a meaningful and practical present, a harmonious message for the Omani people sent by the people of Vietnam in general, and by VOI & Aikya JV in particular".
Amidst the increasingly difficult situation of COVID-19 in Oman and the Middle East, the Ambassador shared his thoughts on the negative impacts of the pandemic on the economy and society around the world, including Oman.
At the same time, he praised the excellent accomplishments of the Vietnamese Government and her people in the preventing the spread of the COVID-19 disease.
Viet Nam and Oman have a tradition of long-lasting, friendly cooperative relations and strategic partnerships. The two countries constantly support each other to maintain their active roles in Southeast Asia and the Middle East, as well as in the international arena.
The two countries continue to maintain comprehensive development in various fields such as diplomacy, investment, trade, tourism, etc... through the annual meetings of the Viet Nam - Oman Intergovernmental Cooperation Committee.
In March 2018 meeting, Minister of Industry and Trade of Viet Nam Tran Tuan Anh and Minister of Trade and Industry of Oman Ali bin Masoud Al Sunaidy signed the 3rd Meeting Resolution of the Joint-Committee on Economic and Technical Cooperation between the two countries.
After each session, many trade and investment projects have been initiated, the total of bilateral import and export turnover has increased sharply, brought about great economic achievements for the two countries.
In terms of investment cooperation, the Viet Nam - Oman Investment JSC ("VOI") established in 2008 is an important joint venture between the State General Reserve Fund of Oman (SGRF) and the State Capital Investment Corporation of Viet Nam (SCIC).
After more than 10 years of establishment, VOI has disbursed more than US$250 million in Viet Nam, focusing on essential sectors such as: High-tech agriculture, toll road, water treatment plants, renewable energy, pharmaceutical and healthcare, education, etc... Some flagship investments include projects of national importance such as Duong River Surface Water Plant, Trung Luong-My Thuan Expressway, Long An solar farms, etc…
As an investment vehicle of two governments, VOI does not only act as a long-term private equity investor in Vietnam but also focuses on positive socio-economic contributions and effects from its investments, improving relations between two countries and their people.
Aikya Pharmaceutical Group – one of leading private corporation focus on producing pharmaceutical products and medical supplies; including antibacterial masks that meet European standards - is one of many strategic partners of VOI since its development in 2016.
In the early days of the fight against COVID-19 in Viet Nam, when the number of domestic masks was still extremely scarce, alongside the societal duty of maximizing the production of antibacterial masks to meet market's demand, VOI – Aikya JV took an active part in providing protection gears and hundreds of thousands of medical masks directly to doctors, nurses and armed forces in the frontline, to prevent and combat COVID-19.
The VOI - Aikya JV wish to further accompany and contribute medical supplies in order to stand firm with the Omani people to combat and soon overcome the COVID-19 pandemic that may be long-lasting, requiring the united spirit and collaboration between countries around the world./.
By Huong Giang