VN plays exemplary role as Chair of ASEAN 2020, Ambassador says
VGP - Viet Nam, as a Chair of ASEAN 2020, has played an exemplary role and demonstrated that with our unity and collective efforts, ASEAN shall be able to overcome any challenges we are facing and find ways in moving forward to realize our visions and priorities as planned.
Myanmar Ambassador to Viet Nam Kyaw Soe Win - Photo: VGP/Thuy Dung
Myanmar Ambassador to Viet Nam Kyaw Soe Win extended his warmest congratulations and deep appreciation to Viet Nam for successfully chairing ASEAN as well as for its tireless efforts in hosting of the ASEAN summits and related meetings throughout this year 2020, when facing unprecedented challenges posed by the COVID-19 pandemic.
"I am sure that we have not faced such kind of unprecedented situations and challenges in the past five decades. These difficult circumstances are, indeed, the very first experiences for the ASEAN Chair to hold meetings, Summits and other related events via virtual modes. However, Viet Nam did an excellent job and successfully assumed its leadership role in close coordination and collaboration with other ASEAN member states and partner countries", he added.
As many as 80 documents, including Ha Noi Declaration on the ASEAN Community's Post-2025 Vision, were adopted during the 37th ASEAN Summit and related meetings while the Regional Comprehensive Economic Partnership (RCEP) was signed on 15 November 2020, the Ambassador highlighted.
The signing of this important agreement, RCEP, marks an important milestone in our regional cooperation architecture. After eight years of intensive negotiation, this RCEP agreement was finally inked. So this significant achievement is not only for the ASEAN, in particular, Viet Nam but also for other signatory States.
This is one of the major tangible outcomes of Viet Nam's ASEAN Chairmanship amidst the challenges posed by COVID-19 pandemic. RCEP represents almost 30 % of world population, 30 % of global GDP and close to 28 % of global trade.
The Ambassador is confident that this agreement will serve as a new driving force to enhance the facilitation of trade and investment as well as to contribute to rapid recovery of trade and economic growth in region and beyond which have been adversely affected by the pandemic.
"I also notice that the Chair has never failed to highlight in the events regarding the importance of collectively responding to the challenges and difficulties posed by COVID- 19 in line with its theme Cohesive and Responsive ASEAN" said Kyaw Soe Win.
All the ASEAN member states need to continue the implementation of outcomes of these initiatives in order to realise our targeted policies and goals. Together we can become more resilient, inclusive and prosperous ASEAN in the not too distant future.
The diplomat emphasized that the positive and tangible outcomes of these important Summits and related events truly reflect the ASEAN's unity, solidary, cooperation and integration, thus contributing to accelerating ASEAN community building, affirming the bloc's centrality in the regional architecture and expanding its external relations.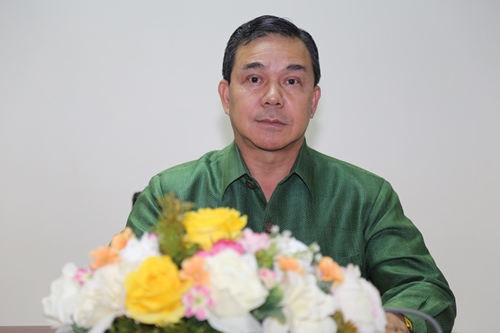 Lao Ambassador to Viet Nam Sengphet Houngboungnuang - Photo: VGP/Thuy Dung

Meanwhile, Lao Ambassador to Viet Nam Sengphet Houngboungnuang stressed that 80 documents adopted at the 37th ASEAN Summit and related meetings would lay foundation for ASEAN and its partners to overcome consequences caused by the COVID-19 pandemic and strengthen cooperation to boost economic recovery.

These documents would also pave the way for ASEAN to upgrade cooperation with partners for peaceful and prosperous development, narrow the development gap and bring regional cooperation to a new level./.

By Thuy Dung