VN, Philippines sign strategic partnership
VGP – State President Truong Tan Sang and his Filipino President Aquino on Tuesday witnessed the signing of strategic partnership, making the Philippines the 5th strategic partner of Viet Nam in ASEAN.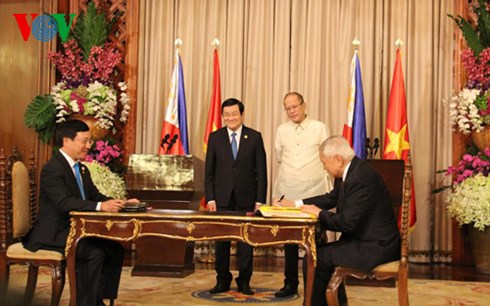 Deputy PM, FM Pham Binh Minh and Filipino FM sign the strategic partnership, Manila, the Philippines, November 17, 2015.
Viet Nam set up strategic partnership with Thailand, Indonesia, and Singapore in 2013 and Malaysia in 2015. Viet Nam is the 3
rd
strategic partner of the Philippines after the United States and Japan.
The new partnership will open a new era in the bilateral relations, provide more impetus to enhance trust and deepen the two countries' cooperation, contributing to pace, prosperity and stability in the region.
Filipino President Aquino emphasized that the strategic partnership is an important step forward to consolidating the two countries' relations, providing "further impetus to deepen our cooperation, particularly in the areas of economic, agricultural, defense and maritime engagement -- areas that are truly vital to the strategic interests of both our nations."
During their talks earlier the same day, the two Presidents showed their pleasure at the flourishing ties in all fields over the past years.
Both sides agreed to continue maintaining and enhancing the exchange of delegations at all levels, organize activities to mark the 40th anniversary of the establishment of diplomatic ties in 2016, utilize the existing cooperation mechanisms, and strengthen information and experience sharing in various fields.
The Philippines affirmed that Viet Nam remains an important rice provider while appreciating the bilateral cooperation in search and rescue work.
The two leaders also discussed on regional and international issues of common concern. The Filipino side promised to share its experience of hosting the APEC Year while expecting to consult with Viet Nam on joining the Trans-Pacific Partnership.
State President Sang expressed his belief that the Philippines will successfully host the APEC Year and voiced his support for the Philippines' participation in the Trans-Pacific Partnership.
Both sides agreed to intensify ASEAN solidarity and maintain the central role of the bloc in major issues related to security and interests of each country and the region as well.
They reaffirmed the importance of ensuring peace, stability, security, safety, and freedom of navigation and aviation in the East Sea as well as settling disputes on the basis of international law, including the 1982 UN Convention on the Law of the Sea.
Strongly condemning the terrorist attacks against civilians in France on November 13, the two leaders believed that the principal culprits will be strictly punished./.
By Hai Minh