VN, Netherlands join efforts to cope with climate change
VGP - PM Nguyen Tan Dung and his counterpart Mark Rutte co-chaired a high-level conference on collaborative support to development of the Mekong Delta in Ha Noi on June 17.
June 17, 2014 4:44 PM GMT+7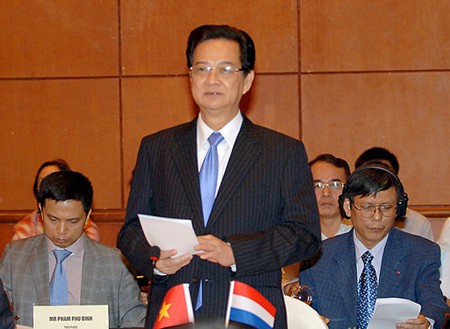 Photo: VGP
PM Dung appreciated the support of the Netherlands Government and development partners to Viet Nam and called for continued support to Viet Nam's efforts in coping with climate change, particularly in the Mekong Delta region.
Playing an important role in the country's rice production, the Mekong Delta has received special attentions from the Government and the international community to ensure a prosperous and sustainable development while adapting effectively to climate change.
The international community has been concerned about negative effects of climate change, which is also a great challenge to Viet Nam's socio-economic development, PM Dung said.
The Government has integrated activities responding to climate change to socio-economic development plans while improving and implementing national strategies on preventing and mitigating natural disasters, responding to climate change, encouraging green growth and enhancing natural resource management and environmental protection. A national steering committee on responding to climate change directly headed by the PM has been established, PM Dung added.
The Government leader valued the Netherlands' support in undertaking a study on the 'Mekong Delta Plan', laying a foundation for Viet Nam to review and adjust the region's development plan.
He also affirmed Viet Nam's commitment on using effectively the official development assistance (ODA) and mobilizing sufficient resources to realize effectively donors' support to the Mekong Delta region.
PM Rutte recognised similarities between the Netherlands and the Mekong Delta, saying that the 'Mekong Delta Plan' should be accompanied by a detailed strategy and sound stance in institution and organization.
The Netherlands is ready to share and learn experience from other delta regions, which will help both countries become stronger and require both sides' efforts to turn theories into actions for the utmost development of the region, PM Rutte said.
At the conference, development partners affirmed their long-term collaboration with Vietnamese relevant agencies to support the Mekong Delta's comprehensive and sustainable development and expressed their hope for the region's prosperous development in the future.
By Vien Nhu