VN, Namibia enhance traditional friendship, cooperation
VGP - The State visit of Namibian President Hifikepunye Pohamba is an important milestone creating a stimulus to bring the traditional friendship and cooperation between Viet Nam and Namibia to a new development period with deeper and more effective outcomes.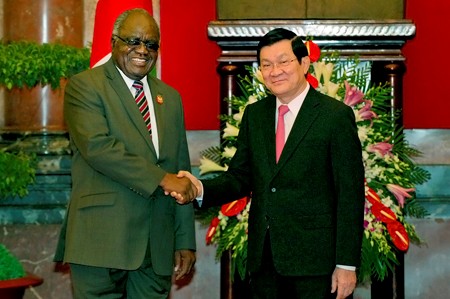 State President Truong Tan Sang and Namibian President Hifikepunye Pohamba, Ha Noi, November 19, 2013 - Photo: VGP
State President Truong Tan Sang made the statement during his talks with the African leader, who began a State visit to Viet Nam in Ha Noi on November 19.
President Sang affirmed that Viet Nam attaches importance to expanding cooperation with African countries, including Namibia, for mutual benefits.
He congratulated Namibian people on their impressive development achievements and spoke highly of the country's contributions to peace, stability and cooperative links in the Southern African Development Community and Africa at large.
President Pohamba expressed his pleasure to visit the homeland of President Ho Chi Minh and his admiration to Viet Nam's fight for national independence and unification in the past and the current renewal process' achievements, which are a source of encouragement for Namibian people in their national liberation and development.
President Pohamba officially declared Namibia's recognition to Viet Nam's market economy regulations.
The two leaders informed each other of each country's situation, reviewed cooperation outcomes and agreed on measures to enhance multifaceted cooperation between the two countries.
Both sides agreed that the cooperation is still modest and does not match potential and expectation of leaders and people of both countries.
To further the cooperation, they agreed to promote close political relations by increasing delegation exchanges at all levels and boosting people-to-people diplomacy and links between the two countries' big cities to improve mutual understanding.
The two countries will continue to implement cooperative agricultural projects in trilateral and bilateral models and to call for the private sector's participation.
Both sides agreed to monitor ministries and industries to work closely with each other to devise specific plans to foster cooperation in investment, trade, education, training, health, tourism and air transport services.
President Sang expressed his gratitude to the Government of Namibia for the recognition of Viet Nam's market economy, which is considered as an important contribution to the sound traditional relationship.
The two leaders also discussed regional and international issues of mutual concern and expressed their pleasure with both countries' seats at the United Nations Human Rights Council for the 2014-2016 period, saying that they will continue to coordinate closely at regional and international forums and in the South-South cooperation framework, contributing to building a more equal and democratic world, for peace, stability, cooperation and development.
After the talks, the two leaders witnessed the signing of cooperative documents between the two countries in diplomacy and agriculture.
The Namibian President invited President Sang to visit Namibia, which was accepted with pleasure. The visit will be arranged through diplomatic channels./.
By Vien Nhu