VN, Mozambique agree to strengthen agricultural cooperation
VGP – At a seminar on Việt Nam-Mozambique agricultural cooperation model recently held in Mozambique by the Vietnamese Ministry of Foreign Affairs and the Vietnamese Embassy in the African country, the two sides agreed to beef up bilateral cooperation on agriculture and fisheries.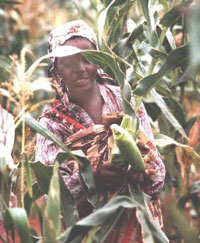 Maize is a major kind of cereal in Mozambique

Delegates to the seminar agreed to support and create more favorable conditions for enterprises of the two countries to do investment in their respective markets.

They will foster cooperation at local levels on agricultural and aquaculture development.

The Vietnamese side pledged to send more agriculture experts to Mozambique,

The two sides also agreed that Mozambique has prospects of cooperation with Việt Nam on cultivation of rice and industrial crops such as rubber, cotton and cashew, as well as aquaculture.

In May 2009, Việt Nam, Mozambique and Japan started to implement a tripartite-cooperative project on growing wet rice in the African country. Việt Nam is the provider of technical assistance to the project.