VN, Malaysia pledge to coordinate closely in ensuring maritime security, freedom
VGP – As littoral countries, Viet Nam and Malaysia agreed to cooperate closely with other ASEAN member States in ensuring peace, stability, security, safety and freedom of navigation and aviation in the East Sea, stated Prime Minister Nguyen Xuan Phuc.
August 27, 2019 3:08 PM GMT+7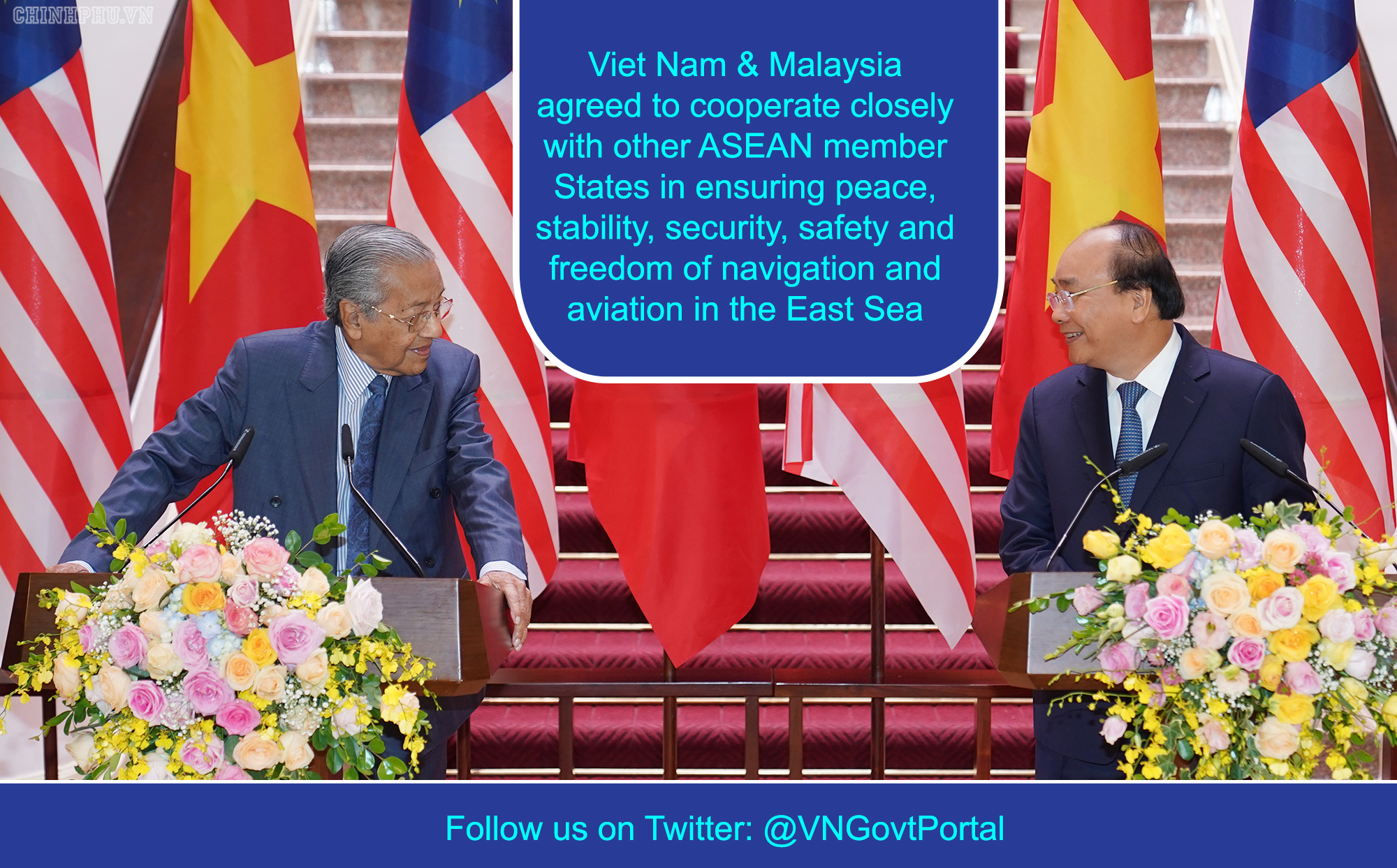 Prime Minister Nguyen Xuan Phuc (R) and Malaysian Prime Minister Mahathir Mohamad at joint press briefing at the Government Office in Ha Noi on August 27, 2019. Photo: VGP
Phuc emphasized the above point at joint press briefing with Malaysian Prime Minister Mahathir Mohamad in Ha Noi on Tuesday.
The two countries will also work closely with the bloc's members in settling disputes through peaceful measures with respect for international law and the 1982 United Nations Convention on the Law of the Sea as well as diplomatic and legal processes, Phuc said.
Both countries called for full and serious observation of the Declaration on the Conduct of Parties in the East Sea and early conclusion of a real and legally-binding Code of Conduct in the East Sea, he added.
As ASEAN is the foundation of the two countries' foreign policies, the two Prime Ministers agreed to collaborate with other ASEAN members to foster solidarity, development and resilience of the ASEAN Community and promote the centrality of the bloc in the regional architecture for a peaceful, stable, cooperative, prosperous, and rule-based region.
Addressing the press briefing, Malaysian Prime Minister Mahathir said both Viet Nam and Malaysia have come to reach consensus on all issues, especially within ASEAN cooperation.
He said both sides expect to further lift up trade value, which increased to US$15 billion, making Malaysia the 8th biggest trade partner of Viet Nam.
The pair agreed to encourage investment in such fields like infrastructure, tourism, high-tech agriculture, aquaculture and logistics while fostering cooperation in defense-security, labor, and energy.
They agreed to encourage their national oil and gas corporations, Petronas and Petro Viet Nam, to expand exploration and exploitation activities and create favorable conditions for their fishermen to conduct fishing activities in a legal, safe and sustainable manner./.
By Ngoc Van