VN legislature condemns China's wrongful acts
VGP - The Viet Nam National Assembly has issued a communiqué, clarifying Viet Nam's just stance and rebuking China's provocations in the East Sea.
June 24, 2014 3:00 PM GMT+7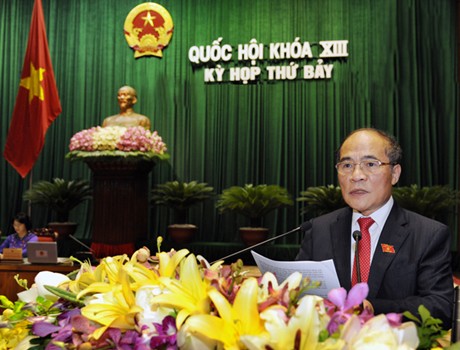 NA Chairman Nguyen Sinh Hung
In a speech at the closing session of the National Assembly in Ha Noi on June 24, NA Chairman Nguyen Sinh Hung noted that China has illegally positioned its oil rig Haiyang Shiyou-981 deep inside Vietnam's exclusive economic zone and continental shelf since early May.
The move seriously violates Viet Nam's sovereign right and jurisdiction and international law, including the 1982 UN Convention on the Law of the Sea (UNCLOS) and the 2002 ASEAN-China Declaration on the Conduct of Parties in the East Sea (DOC), as well as high-level Viet Nam-China agreements on basic principles guiding the settlement of maritime issues in the East Sea.
It is extremely detrimental to friendship, solidarity and neighborliness between the peoples of Vietnam and China, he said.
The move also gravely threatens national independence and sovereignty, as well as peace, stability, security, safety and freedom of navigation and aviation in the East Sea.
Hung said the National Assembly had discussed the matter and issued a communiqué demanding that China withdraw its oil rig from Viet Nam's exclusive economic zone and not carry out similar acts in the future.
He called on fellow Vietnamese countrymen inside and outside the country to stand shoulder to shoulder, supporting the Party and State's stance, defending territorial sovereignty in accordance with international law, creating a peaceful and stable environment for development, and maintaining traditional friendship between the two peoples.
Hung took the occasion expressing his thanks to parliaments, MPs, organizations and individuals from around the globe for supporting Viet Nam's just struggle for justice and asking China to stop such unilateral acts. - VOV