VN, India issue three "Ps" Joint Vision Statement
VGP – Prime Minister Nguyen Xuan Phuc and Indian Prime Minister Narendra Modi have issued a Joint Vision Statement on Peace, Prosperity and People at their virtual summit on Monday.
December 21, 2020 8:30 PM GMT+7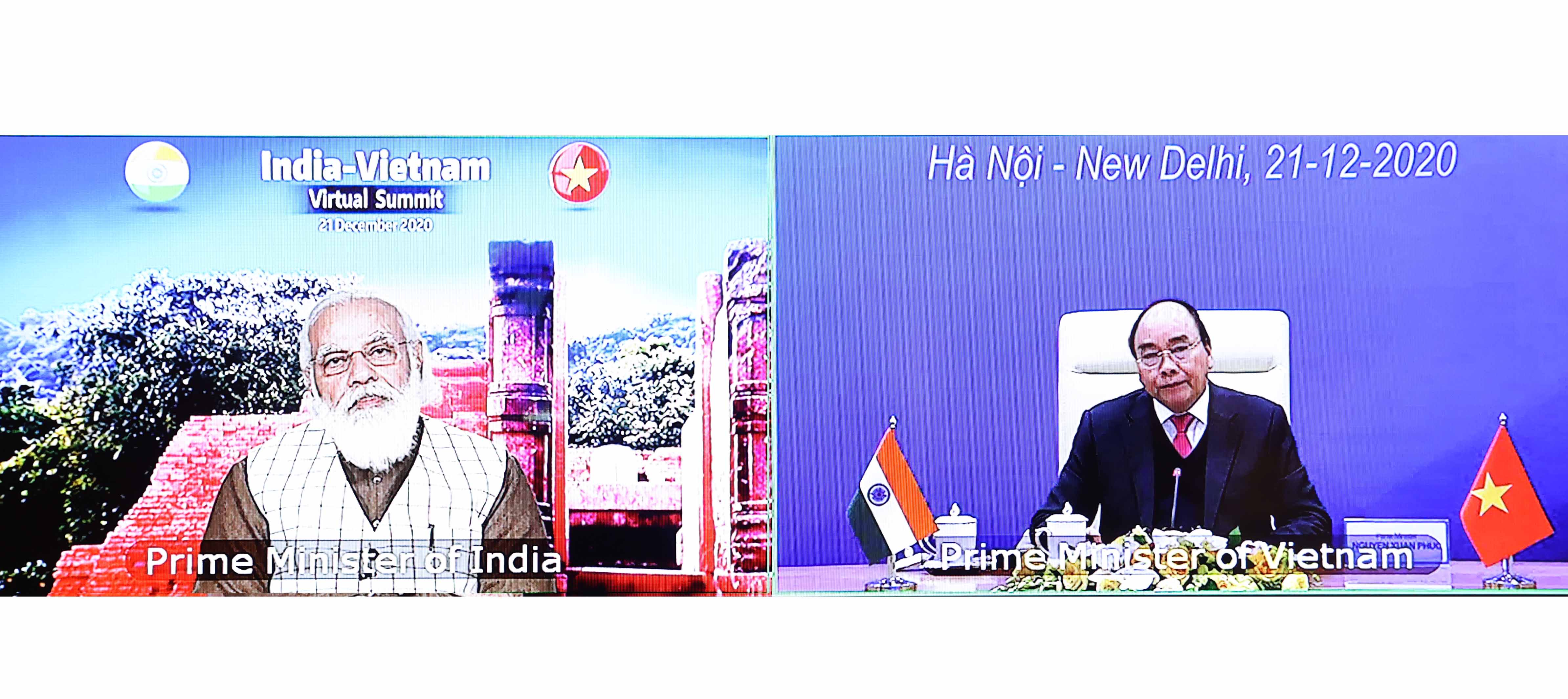 Prime Minister Nguyen Xuan Phuc (right) holds virtual summit with Indian Prime Minister Narendra Modi on December 21, 2020: Photo: VGP
The Statement shall guide the bilateral ties in the coming years, according to the Vietnamese Ministry of Foreign Affairs.
On the occasion, the two leaders witnessed the signing ceremony of seven cooperative documents and announcement of three programs in defense, civil nuclear cooperation, oil and gas, clean energy, healthcare, development cooperation, preservation of heritages and cultural exchanges.
During the summit, the leaders underlined that defense and security cooperation is a key pillar of the bilateral ties and agreed to continue fostering and promoting the role of the existing consultation and dialogue mechanisms while expanding cooperation in defense industry, training, and UN-led peace-keeping operations.
Both sides agreed to strive to soon realize the trade goal of US$15 billion through facilitating trade promotion activities, reducing technical barriers, strengthening production chain connectivity, and maintaining the stability of regional and international supply chains.
The two PMs also agreed to broaden cooperation in energy, science and technology, artificial intelligence, 5G technology, and startup among others.
PM Phuc took the occasion to express thanks to the Indian Government for offering non-refundable aid and preferential credit loans, contributing to socio-economic development and cultural preservation in Viet Nam.
The two leaders pledged to further strengthen mutual support and coordination at regional and international forums, especially the United Nations when the two countries are UNSC non-permanent members next year, and the ASEAN-led mechanisms.
They underscored the importance of maintaining peace, stability, security, safety and freedom of navigation and overflight as well as peaceful resolution of disputes on the basis of international law, particularly the 1982 UN Convention on the Law of the Sea (UNCLOS 1982).
The pair emphasized that the UNCLOS 1982 sets out a legal framework for all activities in the oceans and seas, calling on parties to fully and effectively implement the Declaration on the Conduct of Parties in the East Sea and soon conclude substantial and effective Code of Conduct in the East Sea in line with international law, especially the 1982 UNCLOS.
By Quang Minh