VN discontented with EU's decision
VGP – With 10 yes, 13 no and 4 blank votes, the European Union (EU) on Tuesday accepted the proposal of the European Commission (EC) to extend the imposition of anti-dumping tax on leather-capped shoes imported from Việt Nam and China for 15 months more.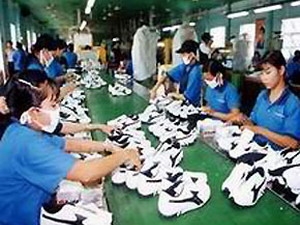 The Vietnamese footwear industry, which employs mostly women, is being severely hit by the EC's anti-dumping decision – Illustration photo

Right after the vote, the European Footwear Alliance, including such members as Adidas and Clarks, criticized the EU's decision, describing that it would cause losses for European consumers and shows the EU's trend to pursue protectionism rather than trade liberalization.

UK Secretary of State for Business Peter Mandelson also voiced his protest against the EC's decision. He said the EC should have not prolonged the anti-dumping duties because that would adversely affect the long-term trade and investment ties with China and Việt Nam.

The duties – 10% on Vietnamese shoes and 16.5% on Chinese shoes – will be officially applied on January 1, 2010.

The European Commission's analysis has shown that European footwear producers have not shouldered the pressure from imports now. Their market share has been quite stable during the investigation period (since October 2008) in comparison with 2006.

On Wednesday, the Vietnamese Ministry of Foreign Affairs and the Ministry of Industry and Trade opened an international press conference in Hà Nội on the EU's decision.

Foreign Ministry Spokesperson Nguyễn Phương Nga stressed at the conference that Việt Nam is extremely discontented with the decision.

"This is an unfair and unreasonable decision which does not soundly reflect actual production and trading in the products in Việt Nam, working against the trade liberation pursued by the EU," said the Spokesperson.

And Vietnamese Deputy Minister of Industry and Trade Lê Danh Vĩnh said that the imposition of anti-dumping duties on Vietnamese leather-capped shoes is not suitable to the fine development of the bilateral trade and economic relations between Việt Nam and the EC, while the country is sparing no efforts to create favorable conditions for investors, including European ones.

Both Ms. Nga and Mr. Vĩnh underlined that the tax extension will surely caused negative impacts on the Vietnamese footwear industry which employs over 650,000 people, mainly poor women.