VN controls COVID-19 pandemic well, says Korean President Moon
VGP – President of the Republic of Korea Moon Jae-in spoke highly of Viet Nam for having controlled the COVID-19 pandemic well, during his phone talks with Prime Minister Nguyen Xuan Phuc on Friday.
April 03, 2020 7:21 PM GMT+7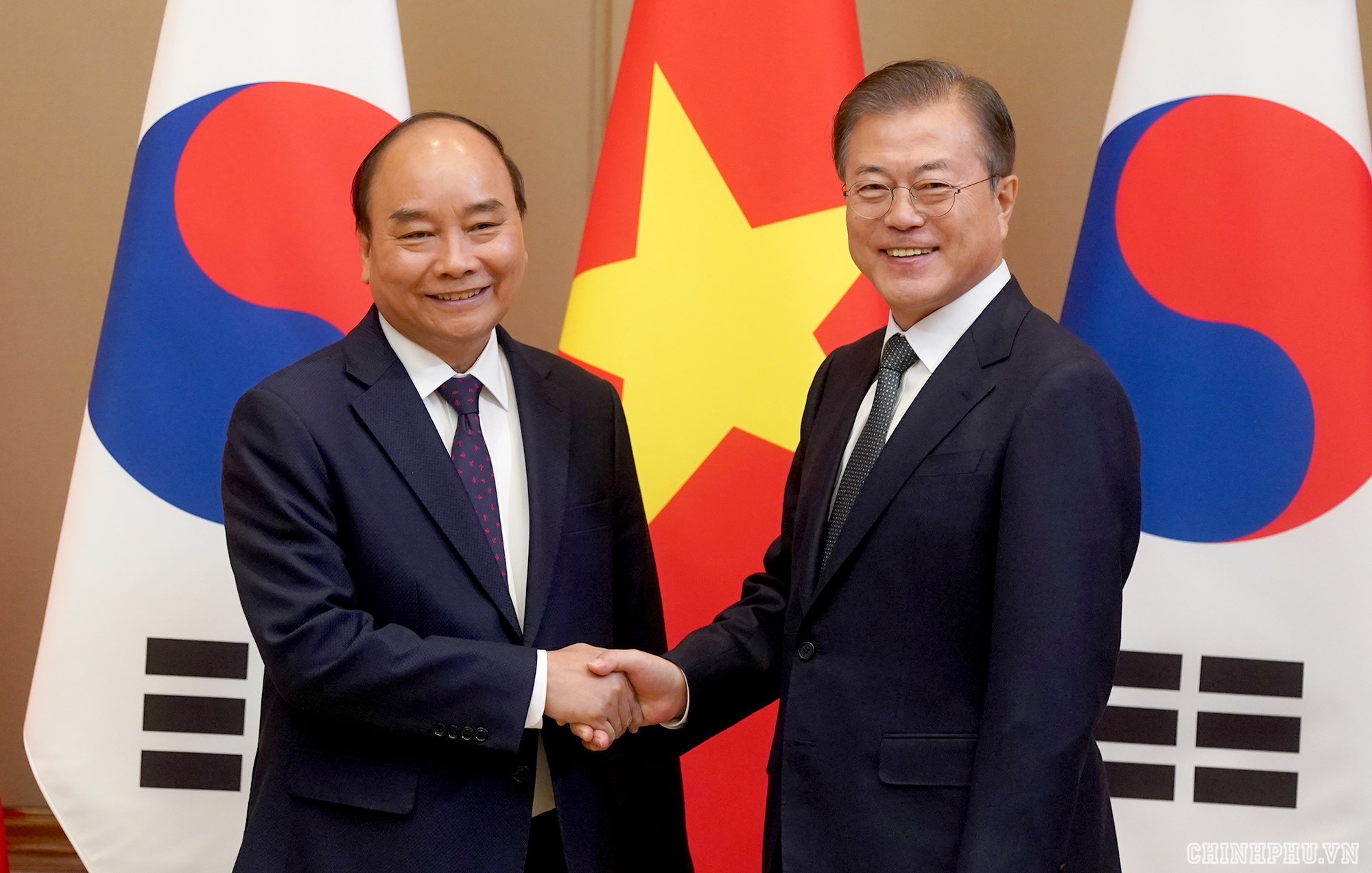 Prime Minister Nguyen Xuan Phuc and RoK President Moon Jae-in shake hands before their summit meeting in Seoul on November 27, 2019. Photo: VGP
>>> Protection of public health and life is "supreme" goal amid COVID-19 pandemic
President Moon affirmed that his Government stands ready to share experience and cooperate with Viet Nam in the fight against the pandemic and in citizen protection work as well.
He took the occasion to extend thanks for the Vietnamese Government's support for Korean citizens and businesses in the Southeast Asian nation.
Meanwhile, PM Phuc briefed about the Government's recent drastic measures and outcomes in this fight, noticeably with no single death reported so far.
The Government will continue its efforts given the ongoing complicated developments of the pandemic while trying its best to sustain growth and protect health of Vietnamese citizens and foreign nationals here in the nation, said Phuc.
He highly valued the measures taken by the Korean Government in containing the pandemic, suggesting both sides strengthen cooperation and mutual support in this fight.
Phuc also asked the Korean Government to support Vietnamese community in the northeast Asian nation to settle their lives and access necessary conditions to prevent COVID-19 infections.
The two leaders underlined the necessity of beefing up international cooperation in response to the pandemic.
As the current ASEAN Chair, Viet Nam has been working on fostering collective responses within ASEAN and between ASEAN and dialogue partners, including the ASEAN Plus Three (ASEAN 3) mechanism, Phuc said.
In reply, Moon voiced support for Viet Nam's efforts and initiatives in this fight, reiterating that his country, as coordinator for the China-Japan-Republic of Korea side, will closely collaborate with Viet Nam to boost cooperation between ASEAN and the Republic of Korea and within ASEAN 3 mechanism.
On bilateral aspect, the leaders expressed pleasure at the effective growth of the bilateral cooperation and agreed to further deepen the ties through a range of measures, including regular exchange of high-level delegations right after the pandemic is over./.
By Quang Minh