VN contributes US$50,000 to WHO's COVID-19 response fund
VGP – Viet Nam has handed over US$50,000 to the World Health Organization's COVID-19 Response Fund to support the United Nations' agency in the fight against the novel coronavirus (COVID-19) pandemic.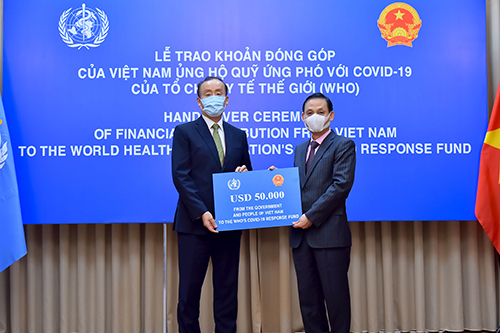 Deputy Foreign Minister Le Hoai Trung symbolically hands over WHO Representative to Viet Nam Kidong Park in Ha Noi on April 24, 2020.
Speaking at the symbolic handover ceremony on Friday, Deputy Foreign Minister Le Hoai Trung dual goal of containing the pandemic and ensuring economic development and social security.
Trung expressed thanks to the WHO, other United Nations' agencies, WHO Office in Viet Nam for their support and assistance to the COVID-19 fight in Viet Nam, contributing to further deepening the Viet Nam-UN partnership during the past four decades.
Though Viet Nam has undergone multiple impacts caused by the pandemic, the Government has decided to contribute US$50,000 to the WHO's COVID-19 Response Fund in a bid to help mitigate the COVID-19 consequences, Trung said.
He suggested the WHO will continue its support for developing countries, especially those with weak healthcare systems to cope with the COVID-19 outbreaks.
Meanwhile, Park expressed thanks to the Government and people of Viet Nam for their sincere and valuable assistance to the WHO's fund.
Park also congratulated Viet Nam on successful control of COVID-19 as evidenced by more than 80% recovery rate, no fatality and no new infection case over the last eight days.
The success was attributed to the drastic measures of the Government as well as cooperation from citizens, the WHO official said./.
By Ngoc Van