VN continues to promote investment opportunities in Davos
VGP - During the second working day the ongoing annual World Economic Forum (WEF) in Davos, Switzerland, the Vietnamese delegation headed by Deputy Prime Minister Pham Binh Minh had activities to widely promote Viet Nam's investment and business environment and show the country's stance on regional and international issues.
January 24, 2015 5:46 PM GMT+7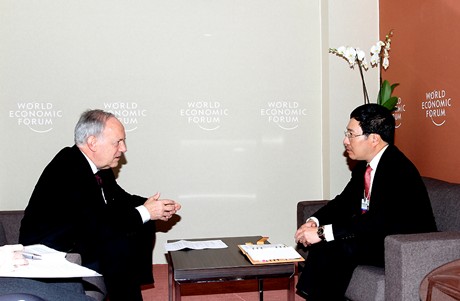 Deputy PM Pham Binh Minh meets with Swiss Vice President Schneider Amman
Deputy PM Minh attended the WEF's six sessions, including a breakfast session of the ASEAN Business Council, a high-level dialogue of the global food security agenda, a lunch session among the world's CEOs on defining momentum for 2015, and sessions on the Global Agenda 2015 and the Geopolitical Outlook 2015.
Deputy PM Minh also met with Swiss Vice President Schneider Amman, WEF Managing Director Philipp Rosler, Prince Andrew, Duke of York, Hiroyuki Ishige, Chairman and Chief Executive Officer, Japan External Trade Organization (JETRO) and Novartis Switzerland's CFO.
Meanwhile, Minister of Agriculture and Rural Development Cao Duc Phat and Deputy Minister of Planning and Investment Dang Huy Dong chaired a dialogue with international enterprises.
During these activities, the Deputy PM introduced positive recovery of Viet Nam's economy in 2014, key innovations and international integration in the furute.
He affirmed the Vietnamese Government's commitments to improving the investment environment and presented investment opportunities after the conclusion of negotiations for free trade agreements (FTA).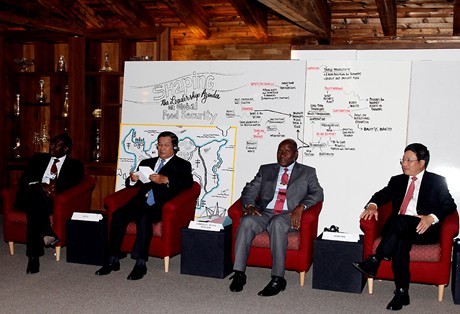 Deputy PM Pham Binh Minh attends the high-level dialogue on 'Forming Global Food Security Agenda'
At a high-level dialogue on 'Forming Global Food Security Agenda', he shared Viet Nam's experience in developing sustainable agriculture, ensuring national food security and contributing to global food security.
Minister Phat shared Viet Nam's experience in implementing the initiative 'new vision for agriculture' through the public-private partnership and called on enterprises to invest in the country's agriculture.
At sessions about ASEAN and security-politics, Deputy PM Minh stressed Viet Nam's roles and responsible contributions to ASEAN and the region and affirmed the country's consistent stance on the East Sea issue.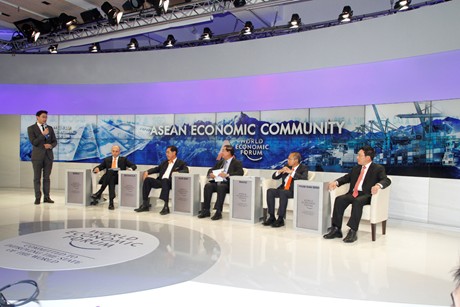 Deputy PM Pham Binh Minh attends the session about ASEAN
The establishment of an ASEAN Community by the end of this year attracted great attention at the WEF.
During sessions about ASEAN, delegates gave positive evaluations about opportunities and potential of ASEAN after forming a single market for free circulation of goods, services, capital and skilled labor.
ASEAN leaders affirmed their resoltution in promoting regional integration, narrowing development gaps, improving competitiveness and creating favorable conditions for interntional enterprises to invest in ASEAN and its member countries.
Meeting with the Vietnamese delegation, partners and international groups' leaders affirmed their attention to cooperation with Viet Nam, gave positive remarks about Viet Nam's economy and expressed their expectations for investment opportunities in Viet Nam after the FTAs' conclusion.
Several groups informed their plans on expanding investment and business in Viet Nam and hoped that the Vietnamese Government would continue to support and improve the investment environment to help foreign businesses do long-term business in the country.
CEOs from such Vietnamese businesses as FPT, VinaCapital and Vingroup proactively participated in the WEF activities.
By Vien Nhu