VN confident in controlling nCoV, says health official
VGP – Viet Nam's health sector is quite capable of preventing and combating the epidemic, Deputy Minister of Health (MoH) Nguyen Thanh Long said Friday.
February 07, 2020 5:57 PM GMT+7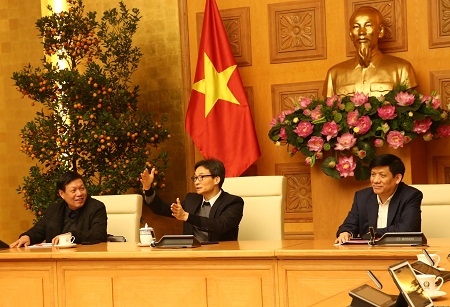 Deputy Prime Minister Vu Duc Dam (middle) and Deputy Minister of Health Nguyen Thanh Long (right) at the meeting of the steering committee for nCoV-caused disease prevention and control held on February 7, 2020. Photo: VGP
Long made the above statement at a meeting of the national steering committee for nCoV-caused disease prevention and control in Ha Noi on February 7.
The ministry is also considering the organization of treatment for nCoV patients right at the district-level medical establishments.
Remarkablly, the National Institute of Hygiene and Epidemiology has successfully cultivated and isolated the novel coronavirus (nCoV) in the laboratory, according to Long.
More than 1,000 Vietnamese people returning from China and nearly 500 others with close contact with nCoV-infected patients are being quarantined and monitored, lying in wait for test results.
The latest achievement will enable quicker tests of cases of nCoV-infections as well as the suspected cases, allowing Viet Nam to test thousands of samples a day when necessary, Long said.
The official affirmed that this will be a prerequisite for the research and development of a vaccine against the viruses in the future, and will make the preventive measures more effective.
As reported at the meeting, Viet Nam has recorded neither nCoV-related deaths nor cross-infection cases thus far. Regarding the infection cases, the domestic health sector has successfully treated three patients, while the other patients are showing optimistic health signals.
At the meeting, delegates and members of the steering committee discussed and agreed on a number of solutions to solve problems related to the disease prevention and control, such as organising the reception of Vietnamese citizens returning from nCoV-hit areas, raising public awareness of disease prevention and control, and the responsibilities of local authorities and Party committees in implementing isolation measures for nCoV infection cases, and others.
By Vien Nhu