VN commits to making contribution to ECOSOC
VGP - Vice President Dang Thi Ngoc Thinh led a Vietnamese delegation to attend a high-level segment of the United Nations Economic and Social Council (ECOSOC) in New York on July 18.
July 20, 2016 10:55 AM GMT+7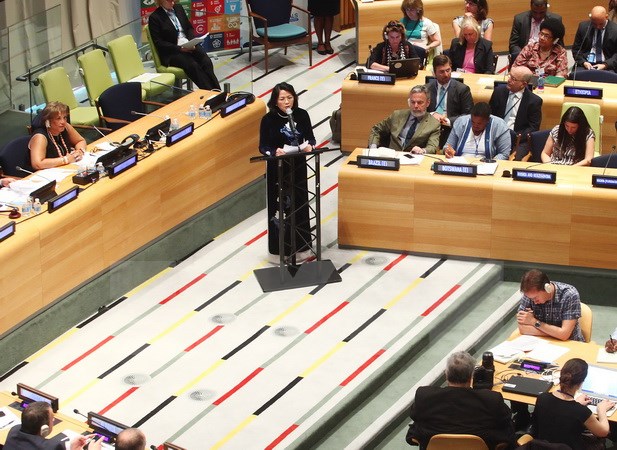 Photo: VNA
This marked the first participation of Viet Nam in ECOSOC activities as a ECOSOC member in 2016-2018.
The Vice President affirmed the three dimensions of sustainable development – economics, and social and environmental affairs – are interlinked and interdependent, and that the Sustainable Development Goals (SDGs) can only be achieved successfully in an environment of peace and security on the basis of respect for international law in her speech at the meeting.
She hailed the theme "no-one left behind" to eliminate the inequality between peoples and nations as well as remind humanity and call for assistance for disadvantaged ones.
She said Viet Nam has taken people as the center and forces in its development and given the highest care for vulnerable people such as the poor, handicapped ones, children and women.
Viet Nam is committed to making active contributions to the work of ECOSOC by implementing the 2030 Agenda with the highest political commitment, she added.
The same day, Vice President Thinh, the Norwegian PM, the President of the UN General Assembly, the UN Vice General Secretary and New York authorities, attended an exhibition on the environment.
On the sidelines of the meeting, she met with officials of the UN Economic and Social Commission for Asia Pacific, during which they discussed building a roadmap implementing the 2030 Agenda within the ESCAP framework.
By Thuy Dung