VN, China to post US $25 billion trade value in 2010
VGP - The two-way trade turnover between Việt Nam and China is predicted to stand at US $25 billion this year, Vietnamese Deputy Minister of Industry and Trade Nguyễn Thành Biên said at the Shaanxi-Hà Nội Investment and Trade Seminar today.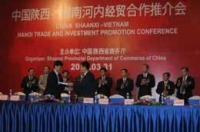 US $25.5-million-worth contracts are signed by Shaanxi and Hà Nội's enterprises on March 31, 2010

Key grounds for the prediction are the economic similarities that both Việt Nam and China share, the senior official said.

Both countries not only enclose themselves in renewal process but also participate in many economic forums such as WTO, APEC, and ASEM.

Especially, the China-ASEAN Free Trade Agreement, which already came into effect, has served as a stepping-stone for the bilateral economic acceleration, Deputy Minister Biên continued.

The two-way trade value rose over 5% to nearly US $21.4 billion last year, despite the global economic recession.

Mr. Zhao Leji, Secretary of the Shaanxi Party Committee, said enterprises from both cities of Shaanxi and Hà Nội can utilize their potentials and strengths to foster cooperation in the fields of science, technology, tourism, and natural resources, boosting the bilateral trade to surpass last years' turnover of US $48.9 million.

Also during today's event, three cooperative contracts in automobile production, mechanical manufacturing and import-export with the total value of US $25.5 million were signed by both cities' enterprise representatives.