VN Business Forum kicked off in HN
VGP – Under the theme "Enhancing Efficiency & Competitiveness of Việt Nam's Economy," the Việt Nam Business Forum (VBF) was held in Hà Nội on May 26 to establish a crucial channel of communication between private sector, donors and the Government for a better business environment in the country.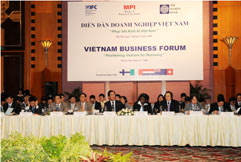 The Việt Nam Business Forum is a prestigious and periodical channel of communication between private sector, donors and the Vietnamese Government, Hà Nội, May 26, 2010 – Photo: VGP/Huy Thắng
Participants took the occasion to openly discuss such issues as socio-economic development, infrastructure, human resources, administrative procedures reform, laws and taxation, and energy saving in Việt Nam.
The Vietnamese economy has substantially progressed with impressive growth rates of 5.32% in 2009, 5.8% in early 2010, and expectedly 6.5% in 2010, said a representative of the EuroCham.
Regarding human resources, delegates held that the biggest challenge to the tertiary education and vocational training in Việt Nam is how to balance the higher recruitment demand and the harsh requirements for training quality.
As the number of students is projected to surge 3.4 times in the coming time, it is necessary to create a legal framework for the private sector to engage in education and training.
According to donors, administrative procedures on land remain troublesome, so that obstructing foreign investment inflow into Việt Nam.
Addressing the forum, Minister of Planning and Investment Võ Hồng Phúc appreciated the helpful opinions of enterprises and donors about the top three issues of infrastructure, human resources and administrative procedures. According to Mr. Phúc, the Vietnamese Government will consider and find solutions to these issues in order to secure a better business environment here./.
By Hương Giang