VN, Belarus vow to facilitate production of motor vehicles
VGP - Viet Nam and Belarus have agreed to work together to facilitate operation of the Minsk Automobile Manufacturing and Assembling Plant (MAZ) in Hung Yen province.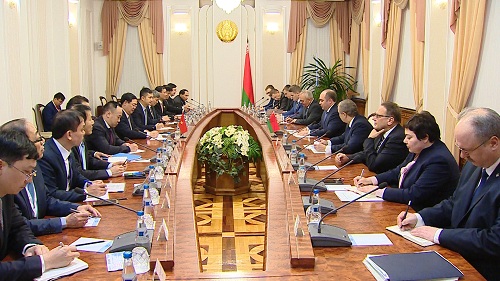 At the meeting between Deputy Prime Minister Vuong Dinh Hue and Belarusian counterpart Igor Lyashenko
This is part of the agreement reached by Vietnamese Deputy Prime Minister Vuong Dinh Hue and Belarusian counterpart Igor Lyashenko during their meeting in Minsk on December 13.
The plant, covering a total area of 5 ha, was designed to manufacture 2,000 big-size trucks for domestic and foreign markets in the first stage.
Belarus considers Viet Nam as a springboard to strengthen its position in Southeast Asia countries and expects to work with Viet Nam to produce goods to penetrate into neighboring countries, including ASEAN countries.
The two Deputy Prime Ministers also agreed to create favorable conditions for their businesses to diversify forms of cooperation, including the establishment of new joint ventures to manufacture goods that meet the demand of both Viet Nam and Belarus as well as members of the Eurasian Economic Union (EAEU) and ASEAN countries.
The pair expressed their belief that the above agreements would help the sides soon realize the trade goal of US$500 in the near future.
They also discussed ways to further strengthen bilateral cooperation in other fields like education and training, science and technology, military technology and local-to-local cooperation.
Regarding education cooperation, Lyashenko informed Hue about Belarusian Government's decision to grant scholarships to Vietnamese students for preparatory courses in Belarus from 2020.
The same day, Hue, who is accompanying top legislator Nguyen Thi Kim Ngan on an official visit to Belarus, visited high-tech company ADANI and Automobile engineering company MAZ – the leading Belarusian investors in Viet Nam./.
By Thuy Dung