VN becomes second Asian country to sign Framework Participation Agreement with EU
VGP – Minister of National Defense Ngo Xuan Lich and Ms. Federica Mogherini, High Representative of the EU for Foreign Affairs and Security Policy and Vice President of the EU Commission signed a Framework Participation Agreement (FPA) in the EU crisis management in Brussels, Belgium on October 17.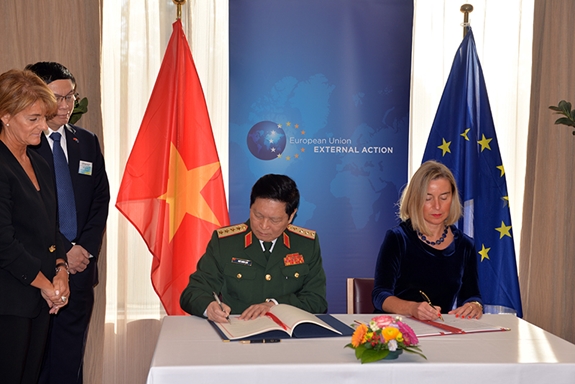 At the signing ceremony
The agreement, which came two months after Mogherini's visit to Viet Nam in August, sets a legal basis to govern and facilitate the participation of Viet Nam in the EU-led civilian and military crisis management operations.
The signing of this Agreement with Viet Nam is a significant step forward in our relations and shows an elevated ambition from both Viet Nam and the EU to implement effectively their defense and security cooperation partnership.
Viet Nam becomes the second partner country in Asia to sign a Framework Participation Agreement with the European Union, after the Republic of Korea, and the first in the Association of Southeast Asian Nations (ASEAN).
With the signature of the agreement, both sides have committed themselves to address shared security challenges in Asia and elsewhere.
After the signing ceremony, Lich held talks with Mogherini, during which both sides reaffirmed their determination to boost bilateral defense cooperation and promptly deploy Viet Nam's commitments enshrined in the FPA.
Lich emphasized that the Vietnamese Ministry of National Defense advocates the EU's wish to participate in defense and security architectures in the Asia-Pacific region.
Meanwhile, Mogherini expressed her belief that Viet Nam will continue its contributions to the maintenance of peace, stability and cooperation in the region as the ASEAN Chair in 2020.
The two sides also pledged to foster cooperation in dealing with common security challenges, including search and rescue activities and organized-crime combat.
Mogherini restated the EU countries' concerns over the recent complicated developments in the East Sea, calling on relevant parties to abide by the international law, including the 1982 UN Convention on the Law of the Sea.
The EU supports negotiations for a Code of Conduct in the East Sea in a transparent manner, she said.
Earlier on October 16, Lich met with Chairman of the European Union Military Committee Claudio Graziano./.
By Ngoc Van