Vinh claims Olympic ticket, Viet Nam has second Olympian in Paris
VGP — Sharp shooter Trinh Thu Vinh secured a ticket to compete in the 2024 Olympic Games on August 17.
August 18, 2023 9:36 PM GMT+7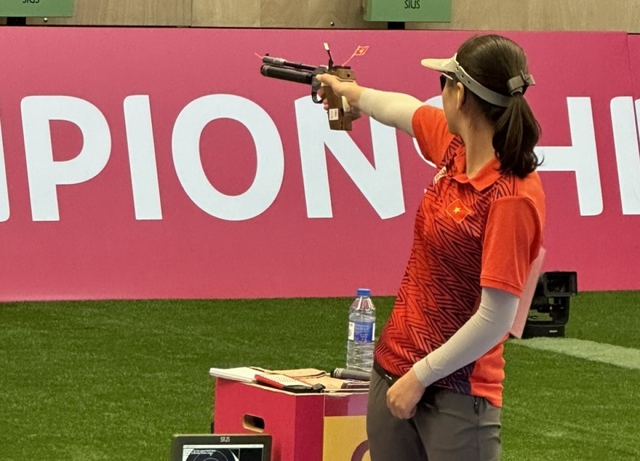 Vinh was member of Viet Nam team taking part in the International Shooting Sport Federation (ISSF) World Championship, an Olympic qualification event, in Baku, Azerbaijan.

In the world debut, the 23-year-old finished fifth in the women's 10m air pistol event which gathered about 130 athletes.
Vinh earned 579 points in the qualifying round to advance to the final round of eight best competitors. She then scored 175.6 points for the fifth position, standing behind Jiang Ranxin of China (239.8 points), Anna Korakaki of Greece (238.3 points), Xue Li of China (218.9 points) and Sara Rahel Fabian of Hungary (198.9 points).
The four top athletes would qualify for the Olympics and each National Olympic Committee can send only one representative to Paris as per regulation.
As the world champion, Jiang will take the ticket for China so Xue will be disqualified. Meanwhile Korakaki has already earned her ticket from the 2022 world tournament.
As the result, Vinh and the sixth-place athlete Kim Bomi of South Korea will feature in Paris.
According to Vu Anh Dao, official of the Shooting Department of the Sports Authority of Viet Nam, the team still waited for an official announcement from the ISSF for Vinh's ticket but it was definitely that Vinh would be one of Olympian next year.
Vinh is a rising star in the shooting team of Viet Nam. In 2022, she won one silver and one bronze at the 31st Southeast Asian Games in her first time participation.
Later, she secured three golds from the 2022 Asian championship.
The results, according to coach Hoang Xuan Vinh, made Vinh a potential face who would receive strong support for further international competition.
Vinh is the second Vietnamese winning Olympic slot after cyclist Nguyen Thị That.
That successfully defended her title at the Asian Cycling Championship in Thailand in June./.