VinFast to be listed on U.S. stock market
VGP - VinFast, a leading Vietnamese electric car manufacturer, has said that it will list in the U.S. through a merger with local firm Black Spade Acquisition Co (Black Spade).
May 13, 2023 6:08 PM GMT+7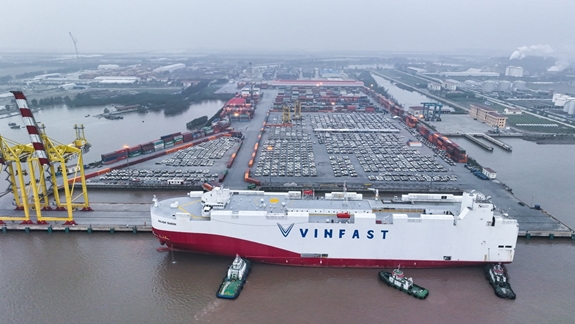 After the merger, the new entity will have an enterprise value of approximately US$27 billion and an equity value of US$23 billion, according to a joint statement by VinFast and Black Spade.
The transaction is expected to close in the second half of 2023, and existing shareholders of VinFast will hold approximately 99 percent shares of the combined company.
VinFast, a member of Vingroup, was founded in 2017 and envisioned to drive the movement of global smart electric vehicle revolution.
VinFast manufacturers and exports a full portfolio of e-SUVs, e-scooters and e-buses across Viet Nam, North America, and, soon, Europe.
The company operates a state-of-the-art automotive manufacturing complex in Hai Phong city that boasts up to 90 percent manufacturing automation and annual production capacity of up to 300,000 units in phase 1.
Earlier, on April 16, VinFast announced the shipment of additional 1,879 VF 8 vehicles to the U.S. and Canada.
Upon arrival, VinFast will hand over 1,098 VF 8 vehicles to the U.S. market and will continue the journey with the remaining 781 vehicles to Canada afterwards.
The vehicles are expected to be delivered to U.S. customers in May and to Canadian customers in June.
This is the second exported EV batch of VinFast, and the first exported VF 8 standard batch to the international market./.