VinFast auto manufacturing factory inaugurated in Hai Phong
VGP – The VinFast automobile manufacturing factory, invested by Vingroup, was officially put into operation at the Dinh Vu Industrial Park in the northern port city of Hai Phong on June 14 after 21 months of construction, a world record in terms of progress.
June 14, 2019 3:49 PM GMT+7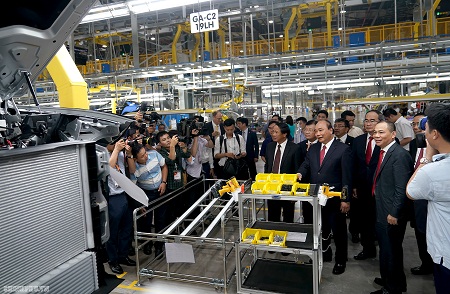 Prime Minister Nguyen Xuan Phuc visits VinFast auto manufacturing factory in Hai Phong city on June 14, 2019. Photo: VGP
Addressing the event, Prime Minister Nguyen Xuan Phuc spoke highly of the efforts made by the factory's leaders and workers, stating that the record construction speed shows their great aspiration and enthusiasm to jointly create a miracle in the auto industry of Viet Nam and the world.
He called on Vietnamese businesses, especially the financially strong firms, to invest in developing the country's technology and industry not only for the future of Viet Nam but also for the future of themselves, as technology and industry are the answer to the sustainable development of the country and businesses.
Alongside the record in terms of construction progress, VinFast has established a new miracle in the automotive market with more than 10,000 orders made one year before the manufacturing of its first car.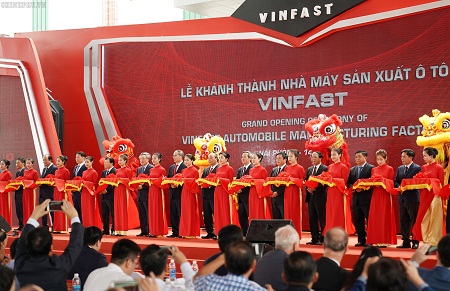 Photo: VGP
VinFast will hand over the VinFast Fadil cars from June 17, while its Lux A2.0 and Lux SA2.0 cars will be delivered to customers in late July, about two months ahead of the committed progress.
Meanwhile, the factory is also urgently designing 12 other car and e-scooter models which will make debut in 2019 and 2020./.
By Vien Nhu