Vinamilk honoured in Top 50 best listed companies, Forbes VN
VGP – Viet Nam Dairy Products Joint Stock Company (Vinamilk) was honored in the list of 'Top 50 best listed companies in 2021' as released by Forbes Vietnam Magazine.
June 18, 2021 5:42 PM GMT+7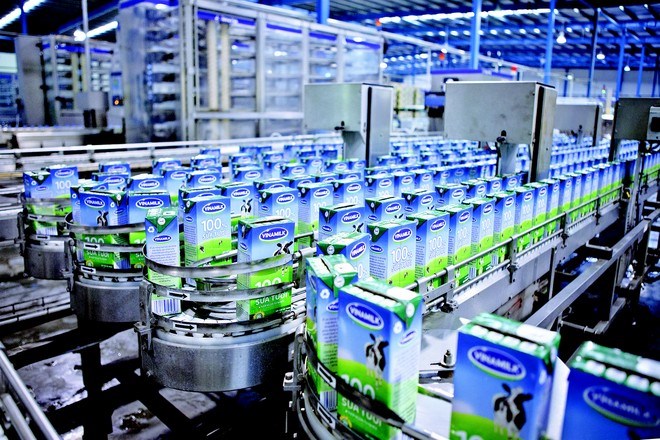 Vinamilk honoured in Top 50 best listed companies, Forbes Viet Nam
Thanks to its sustainable business operations and appropriate response strategies to the challenges posed by the COVID-19 pandemic, Vinamilk has maintained its presence in the top 10 companies while leading the category of consumer goods in both revenue and profit.
"After more than a year of struggling with difficulties due to the pandemic, the business results of many companies on the list show the bravery of entrepreneurs, the ability to turn around, and bold attempts to invest and find opportunities in order to gain positive business results and contribute to economic development," said a representative of Forbes Viet Nam.
Vinamilk has constantly promoted new M&A, joint venturse and investment projects over the past year to expand and diversify its activities as well as boosting its business in foreign markets.
The company has moved up six places in the ranking of top 50 dairy companies in the world to rise to 36th, also the only representative from Southeast Asia named in this list.
The domestic market plays an important role in Vinamilk's development strategy.
Vinamilk has maintained its market share and taken the lead in key segments such as liquid milk, condensed milk, baby formula, and yogurt despite the impacts of the pandemic.
Vinamilk has also focused on investment in the quality of dairy farms, standardising farms following international standards such as Global GAP and EU Organic, which helps Vinamilk ensure raw material resources for its production, meeting domestic quality standards and exports as well.
With such strong investment, Vinamilk is currently holding Asia's largest international-standard dairy farming system in terms of number of farms.
According to Forbes Viet Nam, 50 companies in the 2021 list posted total revenue of more than VND1.2 quadrillion (US$53.2 billion), an increase of 8.7% compared to the top 50 companies in the 2020 ranking. Notably, the profit after tax of the 50 companies increased by 26%, to over VND174,4 trillion (US$7.6 billion).
This is the ninth consecutive year Vinamilk has held a high ranking in the annual list by Forbes Viet Nam, showing the company's stable performance amid many changes in the list compared to 2020, even in the top positions, largely due to the disturbance in business activities caused by the COVID-19 pandemic.
Currently, Vinamilk is the only Vietnamese company in the Top 50 largest dairy companies in the world in terms of revenue and is very close to the Top 30.
By Vien Nhu